Photo Credit: Justin Flor/PrepsKC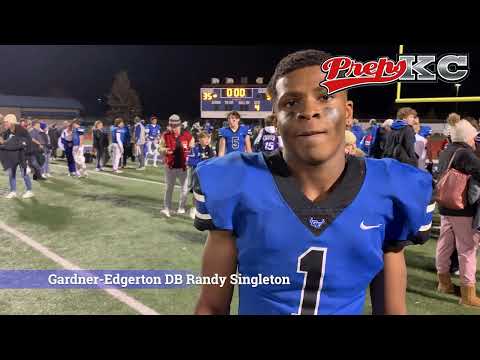 Gardner Edgerton looked to get a win tonight and a chance to go back to the Class 6A state championship game. A game they lost in double overtime last year, and they have been thinking about that ever since. Standing in their way was Blue Valley, a team who started its season 3-4 but turned it around and was on a 4-game winning streak coming into tonight's contest.
In the end it was the Trailblazers who dominated the Tigers on their way to a 35-3 victory and a return trip to the state championship game.
Blue Valley started the game off with a well put together drive. Plays by senior running back John Price and junior quarterback Chris Aiello got the Tigers within striking range but Trailblazers defense would stop them on 3rd down, forcing a field goal attempt. Maguire Richman's 34 yarder would give Blue Valley a 3-0 lead with 7:07 left in the 1st quarter.
Teams would trade punts back and forth before Gardner Edgerton would get a couple first downs and start to gain momentum in the 2nd quarter. Junior quarterback Bravin Powell would find senior Griffin Martin for a 36-yard completion. A couple plays later Powell would run the ball in from 3 yards out to give the Trailblazers a 7-3 lead with 8:53 left in the half.
Teams would again trade punts back and forth, with time winding down in the first half Gardner Edgerton was driving and looking to score. Big runs by Powell and senior fullback Dylan Butash set the Trailblazers up within scoring range. A 20-yard touchdown pass from Powell to senior Randy Singleton gave Gardner Edgerton a 14-3 lead with 38 seconds left in the half.
With short time left Blue Valley wanted to be aggressive, but Singleton would jump an out route and have nothing but green in front of him as he returned it 20 yards for a touchdown. The Trailblazer took a 21-3 lead into the half.
Gardner Edgerton would get the ball coming out of halftime, but the Blue Valley Defense would force a punt. The Tigers would struggle on offense and also be forced to a punt. Gardner Edgerton had a long drive taking the game into the 4th quarter. Trailblazers' Powell would score from 9 yards out and give them a 28-3 lead with 11:14 left in the game.
The Tigers offense would continue to battle as Aiello would find freshman Grant Westphal a couple times and move the ball down the field. However, it was Trailblazers Randy Singleton who would come up with his second interception on the night, halting the Tigers drive.
Powell would lead his team on a drive down the field before Butash would get the ball over the goal line from 2 yards out, increasing their lead to 35-3.
A Martin interception would seal the game as Gardner Edgerton would take a knee and let time expire, with the final score 35-3 in favor of the Gardner Edgerton Trailblazers.
Gardner Edgerton will face Derby next Saturday Nov. 25 at Emporia State. Derby defeated Washburn Rural 29-28.