Photo Credit: Roman Puno/PrepsKC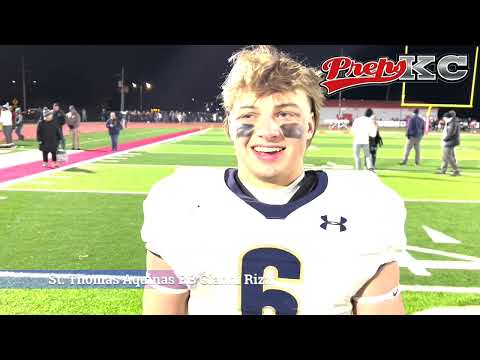 The stakes were high. The winner would advance to the state title game, and the loser would be done for the year. St. Thomas Aquinas recovered a fumble on the first offensive play of the game, and never looked back, posting a 42-14, victory over Tonganoxie.
The Saints, first two touchdowns were scored by running back Gianni Rizzi. The first was from 7 yards out, the second was from 18 yards. Max Doerfler, converted all of his conversions in the game. At the end of the first quarter, the Saints led, 14-0.
Tonganoxie did make a huge defensive stand, forcing a turnover on downs, after the Saints had the ball, first and goal, on the 4-yard line. However, the rest of the quarter was all Aquinas. Trevor McGraw's, pass was intercepted by Cooper Wortman, who returned it for an 11 yard, walk in pick 6.
The Saints then scored through the air, Aiden Skinner, connected with Joe Loughman, for a 21-yard scoring play.
After forcing another punt, Cole Richardson, outran the entire Tonganoxie defense, for a 57 yard rushing touchdown.
The final score of the second quarter, came after the Saints, special team, blocked a punt, giving their offense a short field. The Saints only needed one play, as Gavin Middendorf, went 31 yards for the score. As the teams went to the locker room, the Saints were up 42-0.
Tonganoxie did get on the board, twice in the fourth quarter. The first was a 33-yard strike from McGraw, to Isaiah Holthaus, in the front corner of the end zone. The second score came on special teams. Holthaus, came around the right end, and not only blocked the punt, but he also calmly scooped it, and returned it, for the final points of the game.
After the game Saints running back, Gianni Rizzi, gave much of the credit to his offensive line, "They know exactly what to do. They are very smart, and they make great plays."
With the loss, Tonganoxie finishes the season with a record of 9-3. St. Thomas Aquinas improves their record to 9-3, and will face Andover Central, next week for the state championship.