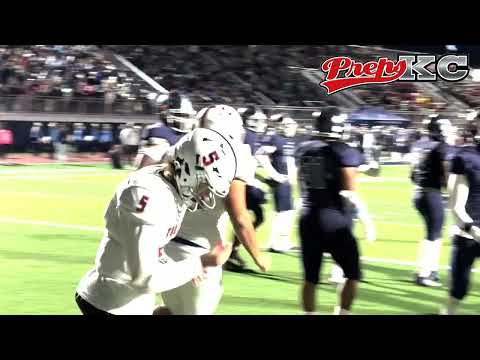 Thanks to a strong start and some late-game heroics, Oak Park clinched its first district title in a generation and continued its historic season.
Junior Donovan Ross snagged an interception at his own goal line in the final minute of regulation, helping the Northmen hold on for a 17-14 victory against Park Hill in the Class 6 District 8 championship game.
With the victory, Oak Park (11-0) secured its first district championship since 1999 and advanced to the Class 6 quarterfinals and a showdown against Liberty North.
"This whole year, we came in here with big plans the whole time," Ross said. "… This is one of the steps on the way there, and it's a big, big win. Big for us and big for the school, but we're not done. We've got more work to do."
The Northmen jumped out to a strong start and scored on two of their first three possessions, including a touchdown run by quarterback Aiden Hinkle that made it 10-0 at halftime.
But at the start of the third quarter, Park Hill (5-6) rallied right back thanks to Dante Dixon's second interception. That turnover gave the Trojans and short field and led to a rushing touchdown by quarterback Gavin Schaag, cutting the lead to 10-7.
Leading by just three points, Oak Park put together a statement drive that spanned 91 yards and resulted in another touchdown on Hinkle's second rushing score of the game, making it 17-7 midway through the fourth quarter.
In a game where Park Hill focused on limiting Oak Park's biggest playmakers – running back Travon Pankey and receiver Evan Braxton – Hinkle said he was glad to make the most of his opportunities.
"We've got big weapons that can make a play at any time," Hinkle said. "It's kind of hard to key on somebody because then somebody else can make a play.
"It's really all just halftime adjustments and seeing what we can do, and ultimately making a play in the end."
One of the area's leading rushers, Pankey rushed for 107 yards on 25 carries, while Braxton gained 61 yards from scrimmage and picked up some crucial first downs to fuel Oak Park's offense.
Still, the Trojans picked up the pace down the stretch and gave themselves a chance to tie or win the ballgame in the final minute.
After forcing a three and out on defense, Park Hill regained possession and stormed right down the field thanks to a hurry-up offense that kept the Northmen on their heels.
"Trying to find a rhythm in that is tough to do, and it makes you be on-point for every possession," Park Hill coach Andy Sims said. "In a close ball game like that, every possession counts."
With 2 minutes remaining, receiver Bryce Lisaka zipped the end zone to make it a one-possession game, 17-14, and then the Trojans recovered the ensuing onside kick to give themselves a chance to tie or win the game.
Park Hill's up-tempo play provided the team with a serious spark in the final minutes and helped the team move deep into Oak Park territory – down to the 23-yard line – in the final minute of the game.
"We did a great job using tempo at the end of the game there to get the ball in the end zone," Sims said. "… We were able to get the onside and thought we were coming down for at least a game-tying field goal – if not a game-winning touchdown."
But Ross made perhaps the biggest play of the game when he snagged the crucial interception with about 40 seconds left to stave off the Trojan's comeback effort and launch the district championship celebrations.
"We did a lot of good stuff preparing, so we've seen the play at the beginning," Ross said of his interception. "After that, the play broke down, and you've just got to find the ball in the air. I went and made a play on the ball."
Schaag threw for 210 yards and ran for another 50 on the ground, while Lisaka hauled in 12 catches for 86 yards to lead the way for Park Hill.
And after one final kneel-down, Oak Park lifted its first district championship plaque since 1999, and coach Ken Clemens received a Gatorade bath from his players during his post-game speech.
"I'm happy for my kids because they're getting to enjoy these wins, but I'm proud of them for how hard they've worked and the kind of character and resilience they've shown," Clemens said. "That's what it's all about."