Photo Credit: Joe Caronia/PrepsKC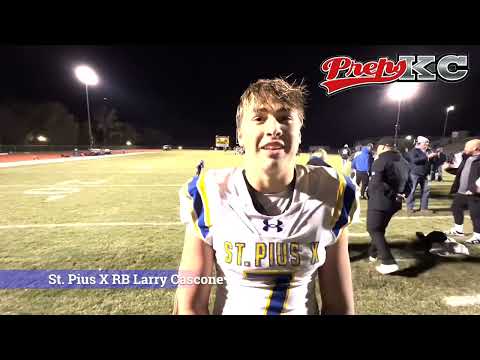 St. Pius avenged a loss to Maryville, from earlier in the season, with 41-13 win, in the district championship game. St. Pius controlled the game from midway in the 2nd quarter on. The Warriors relied on a dominate ground game, led by junior running back Larry Cascone.
Maryville received the opening kickoff and moved right down the field. The big play of the drive, was a long pass, from Derek Quinlin, to Wyatt Garner. Luke Allen dove over the goal line from 1 yard out. Noah Bellamy, converted the point after.
The Warriors first drive, stalled deep in Maryville territory and Julian Abella, showcased his powerful leg, nailing a 25 yard field goal.
Maryville scored on the second drive, Quinlin and Garner connected again. Garner out jumped his defender, and made a move towards the middle of the field, outrunning the defense. The play resulted in a 41 yard touchdown. Bellamy's kick was wide right.
The Warriors, then, marched down the field. The offensive line was creating huge holes, in Maryville's defense. Cascone followed his lineman for his first score, of the game, from 6 yards out.
After an interception, gave the ball, back to the Warriors on their own 41 yard line. It was all Cascone, pounding the rock, for most of the fifty nine yard drive. The touchdown run was from 2 yards out, and with Abella's kick, the Warriors had their first lead of the game, 17-13.
St Pius took the second half kickoff and moved down the field. They failed to find the end zone, but Abella added another field goal, this time from 34 yards.
Maryville's offense was only on the field for a quick three and out. St. Pius ground game continued to roll, and this time it was Charles Ross, from 15 yards, for the score.
The Warriors scored twice more in the 4th quarter, in the final two minutes. Cascone bowled his way into the end zone, from 6 yards out. The final score was an electrifying, "pick-6", with Charles Ross returning the interception 83 yards for the final score of the game.
Before the game, Warrior head coach Anthony Simone was asked about this defense.
"The defense has worked really hard, and the defense is really coming along," Simone said. "We are a completely different team, and a completely different defense, than the last time we showed up here."
St. Pius improves their record to 11-2, and advance, and will play Odessa next week. Maryville finishes their season with a record of 9-2.