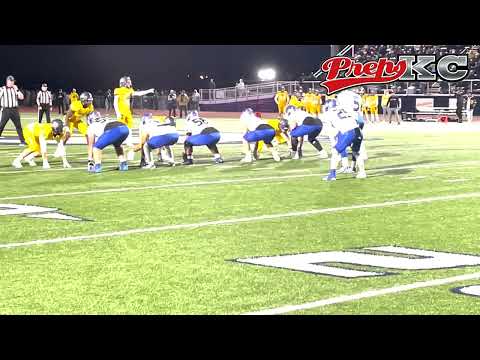 It was interesting early and then again late before Liberty North pulled away for the 33-10 win over Liberty in the district championship game on Friday night.
"The kids came out and executed like we asked them to," North head coach Andy Lierman said. "We knew it was going to be a tough game. You're playing a cross-town rival and it's the playoffs."
For much of the night it was a one-score game, and it was a turnover that led to the game's first points.
With 9:14 left to play in the first half, North senior defensive end Brendyn Petrin recovered a fumble at the Eagles' 31. Three plays later, Tillman Martin threw a 68-yard touchdown pass to MicahJo Barnett, giving the Eagles a 7-0 lead.
Liberty hung in there and Devon Harrison hit a 30-yard field goal in the final two minutes of the second quarter to make it a four-point game (7-3) at halftime.
North made a move midway through the third, adding to its lead with another rushing score.
Jacorey Love's one-yard plunge made it 14-3.
With 9:41 left in the game, North's Bleu Renfrow made a 32-yard field goal and added another at 6:34 of the fourth to push the lead to 17 (20-3).
The Blue Jays made it interesting again with a 50-yard touchdown pass from Christian Kuchta to Dominic Revels, cutting the lead to 20-10 with 5:29 to play.
What's more, Liberty recovered the ensuing onside kick.
But Athen Welcome's pick-six just a couple plays later slammed the door on the Blue Jay rally.
The Eagles (10-1) punched in their third rushing TD with just over three minutes left in the game and moved on to face undefeated and No. 7 Oak Park on Nov. 18.
Martin was 7-9 through the air for 105 yards, while North ball carriers combined for 139 rushing yards.
"Playing teams, you've already played before it gets tough," Lierman said. "It's the hand we're dealt. We're probably going to see some other teams we've played before. We're just going to keep plugging along and take them one at a time."
Kuchta threw for 187 yards, 112 of which were credited to Ace Bindel on 11 catches.
Liberty ends its season at 7-4.