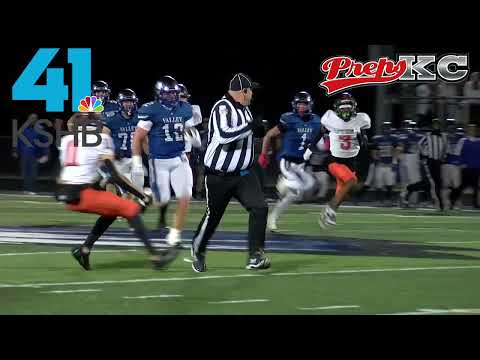 Grain Valley junior safety Aaron Barr has been around the Grain Valley football program for a while.
He was a ball boy for the football team when he was younger, and he dreamed of playing in the district championship game.
He had that chance Friday as his Eagles took on Platte County in the Class 5 District 8 championship.
Not only did he get to play in the big game he always dreamed of, he made the biggest play of the game when he intercepted a pass from Pirates quarterback Rocco Marriott with 1:01 left to help Grain Valley seal a 27-25 victory at Moody Murry Memorial Field.
"The guy I had ran a little quick out route," Barr said. "I read my way back into the play. I helped over the top and luckily, he threw it right to me and I made the play.
"Being able to play in the district championship was my biggest thing and I made a big play. Now we have a chance to win in the state quarterfinals."
Grain Valley advances to play at Webb City against the Cardinals in the Class 5 state quarterfinals at 7 p.m. next Friday.
One play before Barr's interception, Braylon Harden made an interception on a floater thrown by Marriott, but it was wiped out by a controversial pass interference penalty called by the officials. Barr then picked off a deep pass that was overthrown by Marriott around the Grain Valley 30. The Eagles were able to kneel out the rest of the clock to punch their ticket to the quarterfinals.
After the Eagles (10-1) went into halftime up 24-0, Platte County rattled off 25 unanswered points to take a one-point lead.
Grain Valley then drove all the way to the Platte County 5-yard but were unable to hit pay dirt. However, Ben Drinkwater nailed his second field goal, this time from 22 yards out to put Grain Valley up 27-25 with 4:42 left.
"He has ice in his veins," Grain Valley head coach David Allie said of Drinkwater, who holds the school record with the longest field goal made at 48 yards. "We put the game on his shoulders and he came through."
With the temperature in the mid 30s, the conditions were not ideal for the kicking game. But the senior kicker found a way to keep himself ready on the sidelines.
"I was pacing up and down the sideline," Drinkwater said. "It was a lot of gritting my teeth. That's about all you can do. You just have to fight through it."
Following the made kick, the Grain Valley defense forced a three-and-out, but had an empty possession of their own as it had to punt to give Platte County the ball back with 2:15 remaining, which set up Barr's huge interception.
Things started out well for the Eagles as their defense shut down the Platte County offense. Meanwhile, senior running back Ty Williams scored on runs of 8, 18 and 79 as he finished the game with 24 carries for 272 yards. He broke the school record for rushing TDs in a season as he now has 32. He also is now the record holder for most yards in a season with 2,374. The previous record holder was Seth Williams, who rushed for 2,119 yards in 2002.
"It's a dream come true," Williams said of breaking those records. "It's something you think about when you're a little kid playing Pee-wee football."
Williams' 18-yard score was set up by a muffed punt by Platte County's Tres Baskerville, which was recovered by Grain Valley senior Jaxon Anderson at the Pirate 18. Drinkwater also added a 28-yard field goal with 1:33 left in the half to help his team take a 24-point lead into halftime.
In the second half, Platte County started building momentum. Marriott, who was intercepted by Eagles senior Gabe Storment late in the first half, connected with Briaden Stevens for an 11-yard TD pass on the first drive of the third quarter. After a failed two-point conversion, Grain Valley still led 24-6.
On Grain Valley's next drive, a handoff exchange between quarterback Sal Caldarella and Williams went awry as the former fumbled Pirate linebacker Jordan Burnett recovered it at the Eagles 20. Platte County took advantage of the short field as sophomore running back Adam Gisler scored on a 13-yard run up the middle as he drug a Grain Valley defender with him into the end zone.
Another failed two-point conversion made it 24-12. Another Eagles drive stalled, and Platte County kept scoring as a 1-yard QB sneak from Marriott resulted in a TD late in the third period as his team narrowed the gap to 24-19.
The Eagles made it to the Platte County 24-yard line, but the drive was halted there as a pass from Caldarella fell incomplete on fourth-and-5. The Pirates then took the lead on the ensuing possession Marriott scored from two yards out on a read option run at the 8:42 mark.
That was a moment that could have deflated Grain Valley after it saw a 24-point lead evaporate, but the heroics of Barr and Drinkwater helped keep the Eagles afloat.
"Our guys never once doubted on the sideline," Allie said. "We just kept feeding off each other. At the end of the day, that adversity makes us better."