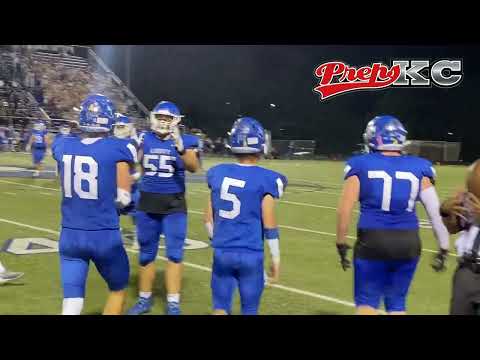 In one of the biggest see-saw battles so far this season, Liberty had the last word.
The Blue Jays won a back-and-forth battle in overtime against Park Hill, 36-29, thanks to a balanced offense and some clutch defense plays in a game that saw the lead change hands seven times.
It was the second time the Liberty (2-2) has played in overtime this year, and after dropping a previous overtime game to start the season, Blue Jays' coach Chad Frigon said he was proud of his team for showing its resilience and progress when it mattered most.
"It felt so good," Frigon said. "We lost an overtime game week one. I was hoping we'd learn from that, and I think we did. It made us, if nothing else, just a little more comfortable, and we executed better in overtime tonight."
In a matchup of Class 6 programs, Park Hill took a two-point lead late into the third quarter – 16-14 – thanks to touchdowns from Bryce Lisaka and Braylon Agee. But the proceedings really kicked off down the stretch.
With his team needing a spark, Liberty senior quarterback Christian Kuchta provided the necessary boost when he escaped the pocket and scampered 47 yards on a pivotal play. His big run ultimately set up a Drew Olson touchdown early in the fourth quarter, putting Liberty in front 21-16 at that point.
"It let off a big spark," Kuchta said. "The linemen got hyped for it. Everyone was losing their minds in the huddle, and then we just had to get back to business."
Sure enough, Liberty's run game only got better as the game progressed, as the team's final four touchdowns were rushing scores, featuring three different scorers – one for Kuchta, one for Olson and two for Jaxon Hicks.
Over the years, Liberty has built its foundation on dominant lead backs that have totaled more than 1,000 yards and double-digit touchdowns, but having a more diverse group of contributors has proved to be a strength for this year's Liberty squad.
"I feel like we're making big strides," Kuchta said. "Everyone's coming together. The linemen are having fun, and that's what matters."
Despite falling behind twice in the fourth quarter, the Trojans (2-2) answered the bell each time thanks to Lisaka's incredible performance.
The Park Hill senior did a little bit – scratch that – a lot of everything during a game as he rushed for a touchdown, hauled in a highlight-reel receiving score and even threw a TD to Maddox Follen, tying the game at 29-29 and ultimately sending the game to overtime.
Lisaka was directly involved in three of the Trojans' four touchdowns and also made some spectacular plays on special teams, as well, including a punt return that set up one of Park Hill's touchdowns.
But defense took over in the final stretches of regulation, as both teams forced stops in the final three minutes to force the overtime.
On the opening over possession, Liberty marched right down and reached the end zone when Hicks scored his second touchdown of the game on an eight-yard plunge.
Once again, Lisaka kept Park Hill's hopes alive on the Trojans' overtime possession by converting on 4th-and-2, but Liberty's defense stood strong and forced an incompletion that ultimately ended the game, as the Blue Jays' bench rushed the field.
Frigon praised the resiliency of his team's defense, which features seven new starters, for helping seal the deal for a youthful Blue Jays squad that has continued to make strides throughout the first half of the season.
"They're getting better each week," Frigon said. "We only have nine seniors, and those guys are really helping those young guys along. I think that's been a big key for us getting better.
"We're not happy with where we're at, but we feel like it led to our progress that last couple of weeks."