Photo Credit: Todd Nugent/PC Preps Extra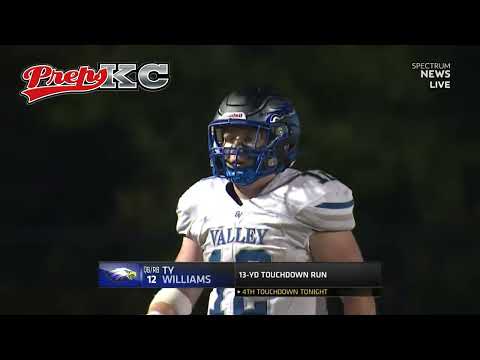 Grain Valley senior running back Ty Williams is on a tear.
If what he had already done through the first three games of the season was any indication he could be a candidate for a Simone Award finalist after the season.
Coming into Friday's game against Platte County, he had 575 rushing yards, averaging nearly 200 yards per game. If he didn't have a case for one of Missouri's best running backs before, he certainly does now.
He had one of the best games by any Eagles running back in the history of the program, totaling 339 yards on 28 carries rushing and catching two balls for 63 yards. He scored a total of six touchdowns as he powered the offense in a 45-24 victory against previously undefeated Platte County on the road.
"I don't know what the school record is (for rushing yards in a game), but that is probably pretty close," Grain Valley head coach David Allie said. "He's a workhorse. He wants the ball, and we are going to give it to him."
Last season, quarterback Caleb Larson led the Eagles with 1,059 yards rushing and 13 touchdowns. Already through four games, Williams has 914 yards and 15 scores. He's on pace to more than double the output the team's leading rusher in 2022.
"He's big, fast and strong," Platte County head coach Bill Utz said. "If you have those traits, you're a pretty good player. He took a lot of shots. He was beat up and he was able to make that last score."
Despite the incredible start to his season, Williams deferred the credit to his offensive line.
"Shout out to my O line, they are in there day in and day out banging on each other, just to make me look better than I actually am," Williams said.
Before the season, Grain Valley offensive lineman Stylz Blackmon said it was a goal of his and the rest of the offensive line to break the school team rushing record in 2023. So far, this team is well on their way to accomplishing that feat.
"That's a phenomenal rushing performance by Ty," Blackmon said. "I want to thank the sophomore Chase Kitsmiller and Titus Jennings. They work their butt off. Through injuries we have been able to adapt and I am glad they are buying into the system."
After forcing a three-and-out on defense, Grain Valley scored on the first drive when Williams found a big hole up the middle, and he ran away from the Pirate defense for a 70-yard rushing touchdown to make it 7-0.
Both teams traded empty possessions, which included an Eagle drive that resulted in a turnover on downs when Williams was stopped behind the first-down marker on a fourth-and-1 run from the Platte County 48.
The Pirates (3-1, 0-1 Suburban White Conference) took over and took advantage of a pass interference penalty on the Eagles, which gave them a first down on third-and-6. Sophomore running back Adam Gisler capped the possession with a 2-yard TD run to tie it at the 1:36 mark in the first.
With 17 seconds left in the first period, Williams broke off another big run. He fit through a small hole, kept running through a Platte County defender tugging his jersey and hit pay dirt from 32 yards out to make it 14-7.
After getting another stop, Grain Valley made it down to the Platte County red zone but had to settle for a 19-yard field goal from senior Ben Drinkwater to go up 17-7.
On the Pirates' ensuing drive, a 63-yard pass from quarterback Rocco Marriott to sophomore Braiden Stewart helped set up a 1-yard TD run for Gisler to cut Grain Valley's lead to 17-14.
That scored held until halftime and the Eagles (3-1, 1-0 conference) ran away with it in the final 24 minutes, outscoring Platte County 28-10.
Grain Valley began the big half with Williams catching a pass from quarterback Sal Caldarella and taking it in from 61 yards out early in the third quarter to put the Eagles up 24-14.
"It was a little Texas route," Williams said. "It was a little angle and Sal saw me. He hit me. It was all kind of a blur and I just kept running and breaking tackles."
Williams later scored a trio of TDs on a pitch play from 13 yards out, a 1-yard plunge up the middle and an outside run to the left for 65 yards to put the exclamation point on the contest with 1:52 left.
Platte County scored on a 4-yard TD pass from Marriott to tight end Brooks Hall, a successful two-point conversion and a safety that was award to the Pirates on an intentional ground call on Caldarella in the end zone.
The Eagles defense had its best game of the season. They limited the Platte County offense to 238 total yards and had four sacks, with junior Toby Inman leading the team with 1.5 of them. Grain Valley also forced three turnovers, which included interceptions for senior Braylon Harden and junior Aaron Barr and a fumble recovery by senior Jace Worthington.
"The defense stepped up tonight," Allie said. "Defense made some great adjustments at halftime. We were able to get turnovers and pressure on the quarterback.
"Toby is one of our guys who has stepped up. He can play in the inside and outside."