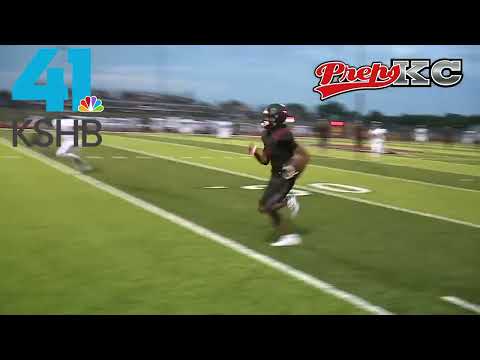 Even with a 3-0 start to the football season, Lee's Summit North coach Jamar Mozee didn't think his team had found its groove yet.
After Friday night, he's thinking a little differently.
Lee's Summit North looked mighty efficient on both sides of the ball in demolishing cross-town rival Lee's Summit 37-16 in front of another big crowd at Bronco Stadium. Offensively, the Broncos (4-0) moved the ball on the ground and through the air. Defensively, they never let Lee's Summit (2-2) establish any kind of rhythm.
In short, the No. 1 ranked team in Missouri Class 6 lived up to its billing. And Mozee at last saw a team on a roll.
"We felt like we had trouble finding any kind of continuity, if that makes any sense," Mozee said. "That was our goal this week – to find our groove and find our stride. I think we're closer to it than we were before the game."
Lee's Summit North scored on its first three possessions and on all but one before Mozee emptied his bench early in the fourth quarter. Broncos quarterback Elijah Leonard accounted for all five touchdowns, four through the air and one on the ground. Wide receiver Isaiah Mozee made two of those TD catches while running back Tanner Howes found big chunks of yardage up the middle and also caught a TD pass.
"We were very balanced today," said Leonard, who shared the starting quarterback spot last season during the Broncos' drive to the Class 6 title game. "We were able to get the pass game going and running game, so it was really good."
Lee's Summit North opened the scoring with a 37-yard field goal from Liam Kays after Broncos stalled on the game's opening drive. Leonard ended their next possession with a 73-yard touchdown pass to Mozee, who slipped a tackle as he raced into the end zone.
Leonard crashed into the end zone from 18 yards out on the Broncos' next drive, and Lee's Summit North had a 16-0 lead going into halftime.
Lee's Summit, meanwhile, tried to get its short passing game going but managed only five first downs and one sustained drive in the first half. The Tigers finally got on the board with a 10-yard pass from quarterback Dawson Heeney to Brayden Davis early in the third quarter to pull within 16-6, but the Broncos struck right back with another deep pass from Leonard, this one a 57-yarder to Michael Lane.
"We've been working on them all summer, and we just hit it," Leonard said of his long TD passes. "We just went with the flow and they made plays for me."
Leonard added a 39-yard TD pass to Howes late in the third quarter for a 30-6 lead and found Isaiah Mozee again for an 11-yard TD early in the fourth quarter. Davis returned the ensuing kickoff 99 yards for a TD and the Tigers' biggest highlight of the night.
"Lee's Summit North is a great football team," Lee's Summit coach Eric Thomas said. "Both sides of the ball they've got great athletes all over the place and we just weren't good enough tonight to compete with them."
Lee's Summit faces another tough cross-town rival next week when unbeaten Lee's Summit West pays a visit to Bud Hertzog Stadium. Lee's Summit North will head across the state line to take on Blue Valley Northwest.
And the Broncos will head to Kansas feeling like they've found their groove.
"We're on a roll right now," Leonard said. "We're just worrying week to week, and next week we'll be 5-0."