Photo Credit: Nick Smith/PrepsKC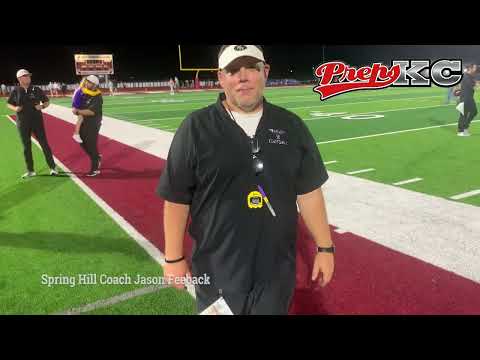 In a battle of Frontier League heavyweights, Spring Hill got past Eudora 31-28 on the strength of a big night by tailback Colton McKanna.
Eudora would take up almost the entire 1st quarter with their opening drive, scoring with 3:38 left, on a Touchdown pass from SR Quarterback Kole Manley to SR Wide Receiver Adrion Seals.
After multiple big runs, Spring Hill SR Running Back Colton Mckanna would find the endzone with 7:26 left in the 2nd quarter, making it 7-6 Spring Hill.
The Eudora Cardinals would answer right back, when Kole Manley took off on a 65-yard scamper, the 2-point conversion would be good, and the Cardinals would have the 14-7 lead with 5:36 left in the half.
That lead didn't last long, as once again Mckanna would run the ball all the way down to the 1-yard line where he would punch it in and tie up the game 14-14.
A turnover by the Cardinals on their next possession would turn into points for the Broncos as Mckanna would find the endzone for his 3rd time in the first half, making it 21-14 Spring Hill.
Eudora would drive down to the 10-yard line and attempt to score with only 4 seconds left in the half, but the Spring Hill defense would hold and make a big stop going into halftime.
After a defensive stand the Cardinals would tie the game at 21 when Adrion Seals would get in the endzone again, this time on the ground.
The back and forth continued when Bronco Running Back Colton Mckanna scored his 4th rushing Touchdown of the night with 5:18 left in the 3rd quarter, Spring Hill would lead 28-21.
Eudora was driving down the field but on the first play of the 4th quarter Spring Hill Cornerback Holden Lough would make a big interception.
The Broncos would settle for a Field Goal from JR Kicker Ryan Jackson, making the score 31-21 Spring Hill.
Eudora would come fighting back, and Manley would find Seals in the middle of the field for a big gain. Manley would eventually cross the goal line on a 1-yard run, making it 31-28 Broncos. An onside attempt by the Cardinals was unsuccessful and Spring Hill would run the clock out for the victory.