Photo Credit: Toriano Porter/PrepsKC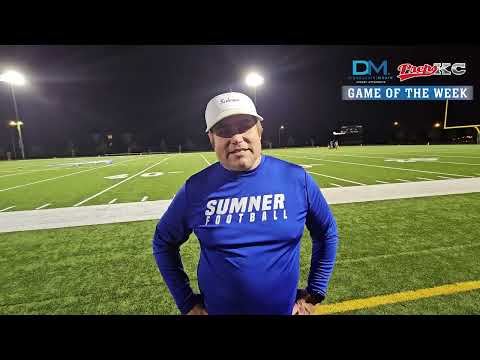 Topeka Highland Park's Jamon Wilson is a showman. And his shoe game Friday against Sumner Academy was on point.
Wilson, a full-time wide receiver and part-time defensive back, wore red, white and black Air Jordan football cleats against Sumner. You can't sport the Jordan brand and stink up the place.
Wilson didn't disappoint. He simply had a night to remember in the Scots' 26-13 win over host Sumner.
"I've got some kicks for sure," Wilson said of his shoe game. "When I saw these drop, I had to get 'em."
Wilson scored three times and intercepted three passes before halftime on Friday. More impressively, he played defense for the first time this season. Wilson finished the game battling leg cramps.
"I was kinda mad when I first found out I had to play defense, but it worked out," Wilson said.
Wilson's individual performance sparked the Scots, who improved to 3-0 on the season and remained undefeated in Meadowlark League play.
"I've gotta tip my hat to my defense," Highland Park head coach Jermaine Monroe said. "My defense won this one for us."
It's no secret, Highland Park likes to play fast. The Scots deploy an up-tempo offense that puts the football into the hands of the team's best playmakers.
Last season, the Scots featured Tre Richardson, an electrifying do-everything offensive player now carving up defenses for junior college power Hutchinson Community College.
"i've got a bunch of playmakers," Monroe said. "I've got to make sure I get my guys the ball."
In the Scots' win over Sumner in the DiPasquale Moore/Preps KC Metro Game of the Week, Wilson was that guy.
Head to the concession for popcorn and risk missing some of Wilson's jaw-dropping plays. Check text messages at your own peril. Don't blink either.
Wilson's pick-6 before halftime extended the Scots' first-half lead to 26-0. The 30-yard interception return came with a cost. Leg cramps befell Wilson with 1 minute, 59 seconds remaining in the second quarter. He would not visit the end zone again.
Teammate Mikey Williams started fast, too. The lanky junior wideout snagged two first quarter receptions from junior quarterback Craige Sipple. Williams out jumped multiple defenders on both catches.
Sipple set up the Scots' first score with a long run. Wilson zigged and zagged his way to both of his first-quarter touchdowns.
Junior Ricky Crawford recorded a sack in the opening quarter as did senior Edd Fay. Crawford added another sack in the fourth. His third was negated by a Highland Park defensive penalty.
Senior running back Amari Taylor's 63-yard touchdown run helped the Scots to a 20-0 lead. Taylor broke tackles behind the line of scrimmage, stopped on a dime, reversed the field, then sprinted to the endzone.
"Our whole game plan was to stop them on the perimeter," Sumner head coach Andrew Wright said. "Once they get to the outside, they're tough to tackle."
Sumner dropped to 0-3 overall and remained winless in Meadowlark League play. The Sabres were hungry for a win, Wright said.
"We're a really young football team," he said. "It's frustrating right now but I kinda see us kinda turning the corner. We just gotta work every single day."
Sumner's Mekhi Neely scored the Sabres' first touchdown in the 3rd quarter. Neely, a junior wide receiver and defensive back, caught a 14-yard TD pass from sophomore quarterback Michael Knight.
Senior running back Deavon McWashington ran three yards for a touchdown in the 4th quarter. Johnathan Bandy's interception with less than 5 minutes remaining kept Sumner's hope of a comeback alive. A late fourth-quarter drive ended on fourth down at the Scots' 17-yard line.