Photo Credit: David Smith/Special to PrepsKC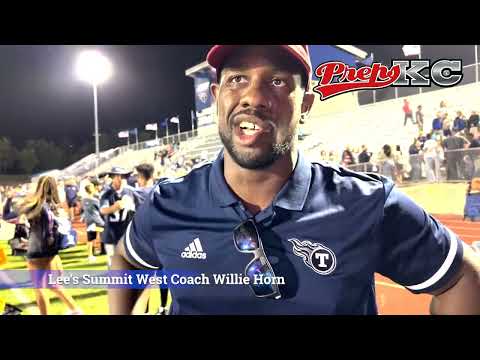 After a disappointing 3-8 season a year ago, Lee's Summit West returned for coach Willie Horn's second year leading the program with 28 seniors for the 2023 season.
Horn introduced a theme during the offseason. They were going to be tested at times and the season would be determined by how they responded. They have so far responded with exactly the fight he wanted to see in them each time they've been tested. They did so again against Staley, winning 28-7 and moving to 4-0.
Staley made two promising drives into Lee's Summit West territory in the first half. Both drives ended with Lee's Summit West game-changing interceptions.
Lee's Summit West's defense had its hands full trying to tackle Staley's running back KV Stone. He carried the ball 31 times for 149 yards and a touchdown. Nearly half of Staley's plays were a handoff to KV Stone, forcing Lee's Summit West to bring down the powerful back repeatedly.
Even as Stone managed to move the ball on the ground, mistakes through the air ended Staley possessions early.
Trailing 7-0 from the Lee's Summit West 30-yard line on first down Staley quarterback Luke Wilson rolled out to his right looking for his receiver, but instead, senior Ty Washington made a play, jumping in front of the pass. The play would ensure Lee's Summit West entered the locker room with a 14-0 halftime lead.
"My coaches were calling pass, so I anticipated the read, and I saw the receiver come out, and it came right into my hands," Washington said after the game.
The only score of the game by Staley was a touchdown run by Stone early in the fourth quarter to make it a 14-7 game. With a game suddenly on its hands in the fourth quarter, Lee's Summit West responded again.
Senior receiver Trayveon Sims fielded the kickoff and cut from right to left, bursting through a gap before being tackled at midfield. Set up with a good field position, Lee's Summit West ran the ball with Quincy Torry on several plays before quarterback Caden Carter carried it over the goalline, giving West a quick response and a 21-7 lead.
The Titans are undefeated after four games. They won just three games all of last season. Despite the improvement this is where they expected to be at this point in the season.
"We knew the team that we were from last year," Horn said. "We had a lot of guys come back and a lot of quality talent and character in our senior leadership. So, we're not surprised where we are."
There are 28 seniors on this Lee's Summit West team. That leadership has been apparent in the first four games of the season, and the way they see it, if they keep playing like this, then there's no reason the momentum has to stop any time soon.