Photo Credit: Joe Caronia/PrepsKC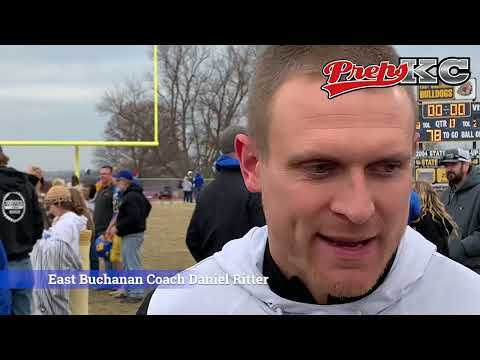 Last year's Missouri Class 1, State Champions, have a chance to repeat. East Buchanan is going back to the State Title game with their, 41-14 victory over Duchesne.
The Bulldogs used the same formula, to advance, that they have used all year, a stingy defense and a punishing ground game. The ground game was led by junior running back Trevor Klein, and his five rushing touchdowns.
The Bulldogs received the opening kickoff and drove the length of the field, with the last 3 yards by Klein. Alec Hesson converted the kick, and the Bulldogs were up by seven.
The Pioneers answered right back, Josh Baker-Mays, connected with Ethan Kissel for a 9 yard touchdown. Bryce Rogles kick tied the game.
With just :18 left in the first quarter; quarterback Gage Busby found Klein in the middle of the field. After catching the pass and breaking a tackle, Klein, sprinted down the right sideline, for a 26-yard score. Hesson put his squad back up by seven.
On the ensuing kickoff, Duchesne, had problems fielding the kickoff, and fumbled out bounds. This put their offense in a hole, starting at their own 2-yard line. On forth down, the punt was affected by the rush, and only travelled 10 yards. The Bulldogs quickly capitalized on the short field. Klein scored from 3 yards out. Hesson's kick made the score 21-7.
Duchesne scored on defense when Amorion Oliphant, stripped the ball from Klein, and returned it 38 yards for the strip and score. Rogles, kick was good, making the score 21-14.
The turnover did not phase the Bulldogs. They answered with 1:07 left in the half. Head coach Daniel Ritter took out two receivers, and put in two more lineman, at tight end. One of the extra linemen, went in motion, Klein followed the big man into the end zone, from 3 yards out. Hesson added the final point of the half, make the score 28-14, at the intermission.
The second half was all about Klein and the defense. The defense gave up no points in the half, forcing two turnovers on downs, and picked off a pass. At the start of the fourth, Klein scored on a direct snap, from 7 yards out. Hesson added another conversion, making the score 35-14.
Klein finished his day, with his sixth overall touchdown. This was a 2-yard run. The final point after was, blocked, making the final score 41-14.
Duchesne finishes their season with a record of 8-5.
East Buchanan, with the victory, improve their record to 13-1, with the state championship one game away.
After all of the interviews were done, I told Trevor Klein, "I have covered two of your games and you have scored eleven touchdowns."
Klein flashed a huge smile and said, "I guess you seen a couple of good games."