Photo Credit: Lori Habiger/Center Stage Photography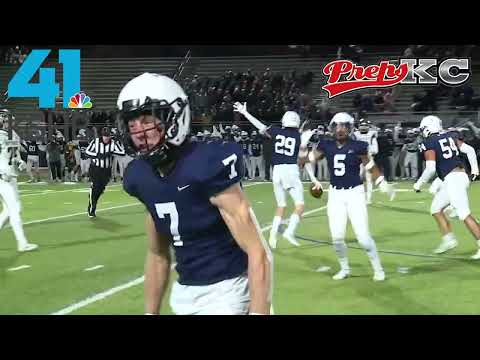 For the fourth season in a row, Mill Valley joyously hoist a sub-state championship plaque into the November air after a dominant 63-0 victory over Blue Valley Southwest.
Owning the top spot in 5A for three straight seasons, Friday night capped off arguably the strongest run to Pittsburg that the Jaguars have had yet, holding their fourth straight playoff opponent scoreless to advance.
"It comes down to preparation," head coach Joel Applebee said after the win. "These kids love preparing. The film study they do, I've never seen anything like it and obviously it shows in how they play. Offense gets a lot of glory but, man, this defense is good. I couldn't be more proud of them."
Facing a Timberwolves program playing in its first ever semifinal, the experienced Jaguars flustered a potent passing offense from the start. Allowing the Blue Valley Southwest offense to average just 2.6 yards per play while totaling just 10 first downs on the night, Mill Valley's active defense forced two turnovers and never allowed their opponent a chance to carve even the thinnest slice of momentum.
"The biggest difference is how much experience we had coming back," senior safety Mikey Bergeron detailed, highlighting what separates this entire Mill Valley squad from those of the past. "Last year for instance, we were a very young team that was still learning. This year we're way stronger and faster but our reads are so much better because those basic skills were already embedded in us."
Playing with a lead never hurts a defense's ability to amp up the tenacity and the Jaguars ground game supplied plenty of cushion.
After an opening drive interception by senior Dylan Massey, senior quarterback Hayden Jay and the offense took over in Timberwolves territory and capitalized on the very first offensive touch, as tailback Tristan Baker shot down the home sideline for a 44-yard touchdown. It would be the junior's first of five scores in the game, totaling 236 yards on 22 carries by the final whistle.
"Our rushing offense always does great," began Baker outside a vibrant locker room afterwards. "Scheming all week in practice, we knew the outside run game was going to be great just like it was last week and the week before. It comes down to the focus we have all week to do it and we just need to keep implementing it."
Throwing just seven times, one of which did result in a 53-yard score to Hayes Miller in the third quarter, a big night for the star signal caller just wasn't necessary with the ground game so effective. From Baker to senior Amarion Graves' nine carry, 96-yard, two touchdown performance, the offense rumbled snap after snap.
"Could we probably have more stats for Hayden? Sure, but he just wants to win and he's one of the best leaders we've ever had," Applebee noted, not just of Friday but on the season overall.
"That's really what we've leaned on all year," he continued of the rushing attack. "It starts with those five guys up front who have done a tremendous job."
Now, the Jaguars stifling defense and powerful offense await their biggest test of the season in a highly anticipated rematch with an undefeated Maize Eagles roster. A challenger Mill Valley put away 28-14 last year, the reigning champions insist their focus is on a single team and it's not the last one standing in the way.
"Each team is different, every year is different," concludes Applebee, who will seek his sixth title.
"I don't think it matters who we play," added Baker. "It's us versus us. The only people who can beat us is us, and if we continue to strive to be the best team that we can be then we can beat anybody."