Photo Credit: Paul Halfacre Special To PrepsKC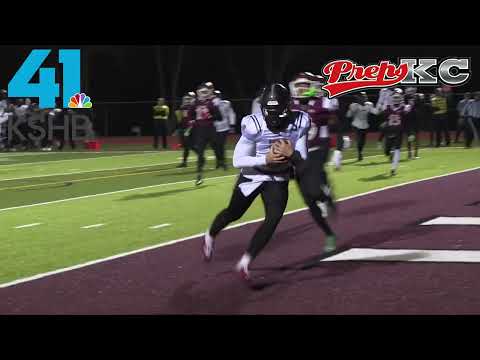 CREVE COEUR - Quincey Baker is not 5 feet, 7 inches tall.
He's 5 feet, 7 and a half inches tall.
"I have to get that half in there," Baker said.
He might as well have been a giant Friday night.
A senior running back for the Lee's Summit North football team, Baker rushed 25 times for 132 yards and scored two touchdowns as the Broncos dominated De Smet for a 33-6 victory in a Class 6 semifinal at De Smet.
The No. 3 team in the Class 6 Missouri Media poll, Lee's Summit North (12-1) advanced to state championship game at 4 p.m. November 26 at Faurot Field. It will face either CBC (11-1) or Liberty North (12-0) who play their semifinal on Saturday.
Regardless of who they get the Broncos will have seen them before. Lee's Summit North opened the season with a 17-7 loss to Liberty North. CBC beat it in the state semifinals last season.
A year after they had a long, miserable bus ride home the Broncos are finally right where they wanted to be all along - in the last game of the season.
"For us the biggest thing was getting back to this game we had a feel for it last year," senior left tackle and Oklahoma recruit Cayden Green said. "We knew we'd be able to win it."
The Broncos didn't just win it. They dominated De Smet (7-6) which was aiming for its third title game appearance in four seasons.
Lee's Summit North scored the first 20 points and reached the end zone on its first four possessions. Baker and junior running back Tanner Howes gashed a De Smet defense that had found success during the postseason. The duo had a combined 39 carries and were taken down for a loss four times. The Broncos' offensive line was simply too big and too physical for the Spartans to consistently win their matchups up front.
"It's great (running behind them)," Baker said. "The whole O-line from five-star Cayden Green to the youngest guy Tyler Pate, it's fun."
Junior defensive lineman Williams Nwaneri was the tip of the spear that suffocated De Smet's offense. He had at least four sacks as the Broncos limited the Spartans to 139 combined rushing and receiving yards.
"I feel like we had a good week of practice. We prepared well," Nwaneri said. "We just played our hearts out. We did all we could, everything it took."
Lee's Summit North led 26-6 at halftime. It kicked off to start the third quarter and after De Smet ran seven plays it punted. The Broncos took over at their own 16 with 9 minutes and 14 seconds remaining in the period.
They didn't give the ball back until the fourth quarter.
Lee's Summit North slowly bled De Smet's comeback hopes to death. The Broncos put together a punishing 18-play drive that ate 9 minutes and 26 seconds off the clock. The drive ended on a turnover on downs after four successive pass plays were unsuccessful, but it didn't matter. The drive had accomplished its purpose of chewing up the clock and completely breaking De Smet's spirit on a brutally cold night.
"It was a sign of dominance," Baker said. "A sign of what we can really do and who we really are as a football team. There was nothing they could do about it."
Added Green, "All week we've been preaching coming out swinging, coming out on top 14-0. We were able to do that and execute. It felt really good. It felt like all our preparation was for a reason."
The Broncos' running game was its bread and butter but the passing game come through when called upon, too. Sophomore Isaiah Mozee caught three passes for 85 yards. He hauled in a gorgeous toss in stride from junior quarterback Elijah Leonard for a 77-yard strike.
Leonard hit on 5-of-9 passes for 104 yards, two touchdowns and was intercepted once.
After making the trip east last season and having it end in heartbreak, Lee's Summit North was not about to let that happen again. It spent a year working to get back to this point and take the next step.
"We knew we were going to get here, and we knew there was nothing that was going to stop us," Baker said. "We'd been here before, played a good team before from St. Louis, we knew what it took and got it done."