Photo Credit: Roman Puno/PrepsKC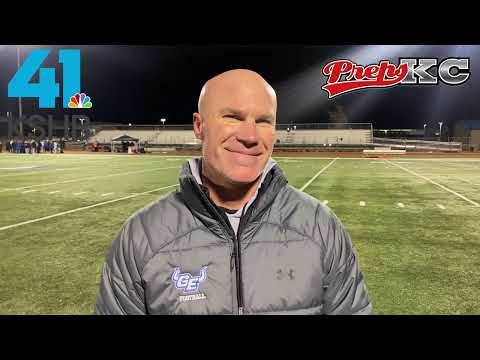 From 2008-2011, the Gardner-Edgerton football team put up some eye-popping numbers each Friday night, Bubba Stalring led the first three and the seniors behind him added one more trip as the Trailblazers advanced to four consecutive 5A semifinals. Many players on the current Gardner-Edgerton football team grew watching those games and have been itching for the chance to make their own history.
The Trailblazers did exactly that on Friday night by emphatically etching their names in the Gardner-Edgerton record books with a 56-7 victory over Olathe Northwest in the 6A state semifinals. It's the first time that the Trailblazers have reached the 6A state title game in school history.
"It feels pretty good. I need to process a lot," Gardner-Edgerton coach Jesse Owen said. "I'm very happy for the players and the community. I'm excited."
The Trailblazers set the tone early by dominating in the trenches on both sides of the ball. Gardner-Edgerton outgained Olathe Northwest, 381-118, thanks in large part to a flexbone offense that was firing on all cylinders and a defense that forced four ONW turnovers.
Dawson Kindler paced the Trailblazer offense with 29 carries for 125 yards and four touchdowns. Kindler had plenty of help, too. Dylan Butash rumbled for 100 yards and a score on 11 touches, and Zaine Mayfield added another score in the fourth.
"We have a tough O-line and tough backs," Kindler said. "They're really good at blocking and I just follow them."
Gardner-Edgerton quarterback Conner Elder only threw two passes, but they both went for touchdowns. The first came on a 4th and 5 late in the first quarter when he found Bravin Powell for a 39-yard touchdown strike. Elder's second touchdown toss went to Austin Buie for 20 yards with 25 seconds to go in the first half.
Buie's touchdown catch gave the Trailblazers an answer to Olathe Northwest's lone score. Micah Geary put the Ravens on the board with a 37-yard touchdown reception from Cooper Carley, but Gardner-Edgerton still took a 35-7 lead into the half.
"Olathe Northwest is a good football team. They're playing well and were here for a reason," Owen said. "I'm proud of our guys because they were ready to play."
The Trailblazers also came up with a big special teams play to complete their well-rounded performance and really take control late in the first quarter. After Powell's touchdown catch put Gardner-Edgerton up, 13-0, the Trailblazers pooch-kicked it and recovered after the ball went off one of the ONW upmen.
Leading the charge for the Gardner-Edgerton defense was Eli Porter, who corralled two interceptions. Porter's first pick came on the final play of the first half. His second interception was nearly returned for a touchdown, as he picked it off at the Gardner-Edgerton 4-yard line and returned it all the way to the ONW 10. Mayfield turned the turnover into points two plays later.
"That's what our defense has been doing, so I hope they can keep it up," Owen said. "They're dialed in right now and are pretty focused. Hopefully we can keep it going."
Gardner-Edgerton (9-3) will face Manhattan (12-0) at 1 p.m. on November 26 at Emporia State's Welch Stadium in the state title game. Manhattan edged Derby, 28-23, in the other 6A semifinal.
"We'll have to be extremely prepared and ready to go," Owen said. "We're just thankful that we have the opportunity to play."
Olathe Northwest had its seven-game winning streak snapped with the semifinal loss. The Ravens finished their best season in school history with a record of 8-4.