Photo Credit: Jeff Stead/PrepsKC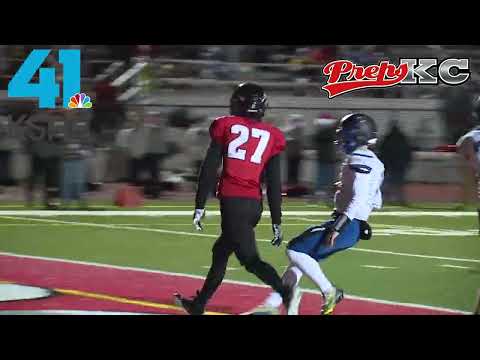 Any high school football team that plays or scouts Fort Osage knows there's one player it doesn't want touching the ball on any punt or kickoff.
That player is senior Lorenzo Fenner, who is arguably the most dynamic punt and kick returner in the state.
Last season, he returned seven kicks for touchdowns and had five more in which he reached the end zone but was called back because of a penalty.
Grain Valley had just scored a touchdown 1:58 left in the first half to narrow Fort Osage's lead to 13-7. However, senior kicker Austin Schmitt kicked it to Fenner, and the Indian senior quickly shifted momentum with a 90-yard kickoff return for a touchdown to put Fort Osage back up by 13.
That was the key play that led to the Indians' 29-10 victory over the Eagles Friday at home in the Class 5 quarterfinals.
"When I see the ball fly through the air and hit Fenner's hands, I just think, 'Oh God. I bet the coach on the other sideline is praying.' said Fort Osage senior quarterback Greg Menne, who was 12 of 18 passing for 191 yards and a touchdown and ran six times for 37 yards and another score. "I was just sitting there laughing when he was maneuvering through the kickoff (coverage) team."
Fort Osage coach Brock Bult echoed Menne's sentiments.
"Our conversation in the headset after that play was, 'Why did they kick to him?'" Bult said. "Did they really just kick it to him again? Didn't they learn their lesson?"
Grain Valley head coach David Allie said he ball died when kicker Austin Schmitt sent the ball into Fenner's hands.
"I wish I could say (Schmitt) slipped like he did last year, but we didn't slip," Allie said of last year's regular season game against Fort in which Fenner returned a kickoff to the Grain Valley 2-yard line. "The ball went right to (Fenner) and that's not good. He's electric. It was not designed to go to him."
The Fort Osage senior gave all the credit to his teammates on special teams.
"The blocks I got were excellent," said Fenner, who also had 109 yards receiving on 10 receptions. "I love the blocks my team set up for me. (Grain Valley scored) and my team just came out fired up and they just made the blocks for me to find the hole and get going.
Leading up to Fenner's big return, Fort Osage took a 13-0 lead on a 66-yard TD pass from Menne to sophomore running back Ryver Peppers and senior Roman Tillmon recovering quarterback Caleb Larson's fumble for a 14-yard scoop and score.
Grain Valley responded with 1:58 left in the first half when Larson scored on a 7-yard quarterback keeper to make it 13-6.
After that Fenner's return quashed any momentum the Eagles (9-3) may have had.
Grain Valley made it 20-10 going into halftime following a 29-yard field goal from Schmitt. Two plays before that, the Eagles nearly had the ball at the Fort Osage 10-yard line with just under 20 seconds left.
Larson threw a perfect pass that hit wide receiver Brek Sloan between the numbers. However, Fenner got his hand in there at the last moment to knock the ball away and force an incomplete pass.
Fort Osage shut down the Grain Valley offense in the second half, holding the Eagles to just 37 yards in the final 24 minutes. For the game, the Indians (10-2) allowed just 177 total yards and only 83 yards rushing. They also forced three turnovers on special teams and defense.
Fort Osage shut down Grain Valley's bread-and-butter inside run game between the A and B gaps.
"Our strength all year long has been our defensive line," Bult said. "Now that we are getting a little bit healthier, we were able to put Brock (Branstietter) back at defensive tackle and that made a big difference inside."
Xander Shepherd made a 28-yard field goal and Menne scored on a 1-yard TD run to cap the scoring for their team in the second half.
Fort Osage will await the winner of Saturday's quarterfinal game between MICDS and Central (Cape Girardeu). If the former wins, the Indians will play at home. If Central wins, they will be on the road.