Photo Credit: SJ Munoz/PrepsKC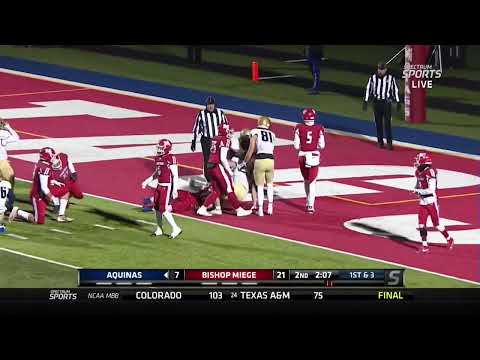 Bishop Miege took advantage of costly turnovers in beating St. Thomas Aquinas 38-28 and advancing to next week's Class 4A Championship.
The win avenged an earlier season loss to the Saints on Oct. 7
"I've been on both sides, where we've won the first matchup and lost the second one," Miege head coach Jon Holmes said. "This is the one you gotta get. For us it was a good refocus as we were getting ready to play them this week. Our guys remembered how it felt to lose that game and we didn't want to have that feeling again tonight."
Aquinas took the early lead, covering 79 yards on their opening drive in 4:56. Sean Carroll's first of three touchdowns, a 5-yard run, made it 7-0.
Miege answered before quarter's end. A 56-yard pass to DeAndre Beasley moved Miege inside the red zone, and a few plays later a TD pass from Mac Armstrong to Isaiah Coppage made it 7-7.
The game shifted on back-to-back takeaways by the Miege defense in the second quarter.
PJ McCallop's interception at the Miege 28 was turned into points on a 10-yard TD pass to Coppage just over three minutes later. That TD gave the Stags their first lead of the game (14-7).
Just 14 seconds later, Miege recovered a fumble at the Aquinas 37.
The Stags needed less than two minutes to cash in, and a rushing TD by Beasley had them on top 21-7.
"They (Aquinas) did a really good job the first time we played them of not turning the ball over," Holmes said. "This time they put it on the ground, and last time that was us that did it. We answered a lot of big plays they had. Our offense did it play after play and the defense came up with huge stops. We felt this game would be like this. It was going to be a battle."
Aquinas got back on track with a much-needed score from Carroll to move back with seven at 2:07 of the second.
However, that left Miege plenty of time to work.
A 22-yard pass to Daegan Jensen gave the Stags a 28-14 halftime lead.
That momentum carried into the second half. Miege's first drive of the third quarter went for 63 yards, capped by a 31-yard pass to Teryn Jackson and the lead was 35-14.
Aquinas (8-3) managed to put up two touchdowns in the fourth, but the lead never dipped below double-digits over the final 12 minutes.
Armstrong finished the game with 323 yards passing and four scores, while Beasley ran for 108 yards and one TD and Jensen caught six passes for 123 yards and one TD.
Carroll racked up 166 rushing yards on 34 carries to go along with three touchdowns.
Miege (9-2) will face Wamego (12-0) at 1 p.m. at Hummer Park in Topeka, Kan., with the state championship on the line.