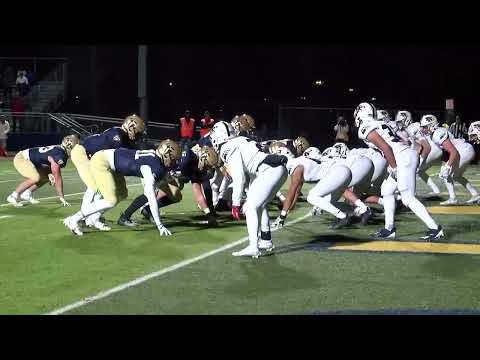 When they met St. Thomas Aquinas and St. James Academy met in week four of the regular season, little did they know they would see each other again in the quarterfinals of the Kansas Class 4A playoffs. Back in week 4, the St. James handed the Aquinas one of its two losses on the season 24-20, but on Friday night, the Saints weren't having any more of that.
In what turned out to be a revenge game where the stakes were much higher, the Saints rolled back the Thunder 28-13. But it wasn't until the fourth quarter that the game was securely in tow for Aquinas. And they did all their damage running the ball on the feet of running back Sean Carroll.
St. James (7-5) jumped out to the early lead on a Kylar Haarhuis 29-yard field goal. The Saints took the lead right before the end of the first quarter when Carroll scored the first of his four touchdowns on a 1-yard run.
In the second quarter, the Thunder pulled back on top on a Blake Boydston to Finn Burritt 5-yard touchdown pass. St. James led 10-7 at the intermission.
Aquinas took the lead back for good in the third quarter on a Carroll 21-yard run. Haarhuis knocked in a 42-yard field goal for the Thunder to cut the lead to 14-13, but that was as close as St. James would get as Aquinas would blow the game open in the fourth quarter.
Carroll ran for two more touchdowns in the fourth, one for two yards, the other for four yards. He finished the night with 211 yards rushing on 34 carries. Gianni Rizzi 59 yards on 10 totes.
For St. James, Boydston was 12 of 20 passing for 104 yards with one touchdown and two interceptions. John Niesen had seven catches for 62 yards, and John Tujague had 56 yards rushing on 12 attempts.
Overall, Aquinas had 305 total yards rushing as a team, controlling the line of scrimmage, the clock and of course, the scoreboard.
The win improves the Saints record to 9-2, but more importantly advances them into the Class 4A semifinals next week against Bishop Miege whom they defeated in week 6 of the regular season 29-26.