Blue Valley West 48, Blue Valley Southwest 7
Sage Huffman led a potent ground attack, rushing for 172 yards and two touchdowns in Blue Valley West's 48-7 victory over Eastern Kansas League rival Blue Valley Southwest. It pushes the Jaguars record over .500 both overall and in the conference to 2-1.
Huffman got West on the board midway through the first quarter with a 13-yard run. Quarterback Zach Darche made it 14-0 on 1-yarder, and then Huffman again right before the half with another 1-yard score to make it 21-0 at the intermission.
It was more of the same in the second half as the Jags poured it on. Nick Taylor, who ran for 88 yards in the game capped West's scoring with a 79-yard touchdown run in the fourth quarter.
The Timberwolves (0-3, 0-3) got on the board in the fourth quarter on an Emmitt Peters 3-yard touchdown run.
Lansing 34, Leavenworth 26
Lansing and Leavenworth battled back and forth in a United Kansas Conference matchup Friday night with the Lansing coming out victorious in a tight one 34-26.
Even though the records didn't reflect it, this one was about as even as it got. Lansing had 499 yards of total offense to Leavenworth's 428. There were four lead changes, all in the first half. The Pioneers (2-1, 2-1) lead 6-3 after one, but the Lions (1-2, 1-2) led 15-8 after two quarters.
The difference in the game for Lansing was the third quarter when they outscored Leavenworth 9-0.
Lansing's quarterback Dalton Jorgensen was 16 of 23 for 344 yards and three touchdowns, hitting Caden Howell for two scores and Lexton Grafke for one. Grafke also had nine catches for 209 yards.
Not to be completely outdone, Leavenworth's Eddie McLaughlin was 19 of 32 for 210 yards and two scores, connecting with Kaden Ramey both times and who also had a total of 11 catches for 138 yards. McLaughlin also ran for 196 yards and two touchdowns.
St. Thomas Aquinas 42, Blue Valley North 14
After trailing 7-0 in the second quarter, St. Thomas Aquinas scored four straight touchdowns in the same quarter, one on an interception to fly past Blue Valley North 42-14 Friday night. The Saints kept their record perfect at 3-0 overall but most importantly in the Eastern Kansas League to stay atop the standings.
The Saints used a dominant ground game and stifling defense to keep North (0-3) off balance all night.
First, the run game. Nine different Saints touched the ball, led by Sean Carroll and his 140 yards and three touchdowns. He scored on runs of 34, four and 29 yards. Rushing touchdowns also came from Nathan Phillips and Gavin Middendorf.
Now, the defense. The Saints held the Mustangs (0-3, 0-3) to just 167 yards of total offense while compiling three turnovers. They allowed just seven first downs, but most impressively, they didn't allow North to convert a single third down.
William Wallace was 11 of 28 passing for 102 yards and a touchdown for Blue Valley North. Jaxon Goldberg scored the touchdown on his only catch of the night for 65 yards. Running back Frankie Tryban had 45 yards rushing and a touchdown.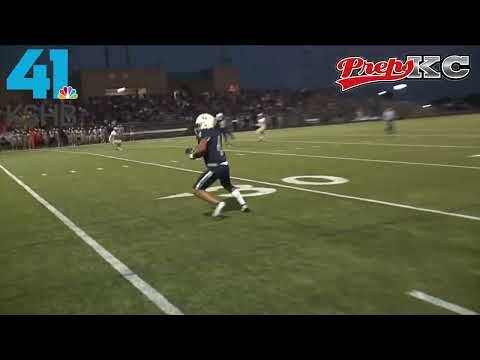 Basehor-Linwood 51, Turner 6
Basehor-Linwood kept its record perfect with a 51-6 win over Turner Friday night in battle of two United Kansas Conference foes.
The Bobcats (3-0, 2-0) had no trouble with the Golden Bears (0-3, 0-3), leading wire to wire. They held Turner to just 79 yards of total offense, 70 on the ground, nine through the air and just a total of three first downs.
The scoring came fast and furious in the first half for Basehor-Linwood. Quarterback Brady VanDonge started things off with a 3-yard run. Then Nick Doering ran it in from 14 yards out.
Turner scored on an 80-yard run from Donovan Moore. On the ensuing kickoff, Brant Wilson ran it back 80 yards for a score.
In the second quarter, VanDonge threw two touchdown passes, one to Nash McCarty for four yards, the other to Isaac Neil for 80 yards. Corey Clark then ran for 55 yards to close out the first-half scoring. VanDonge and McCarty hooked up one more time in the third quarter for 32 yards. VanDonge finished the night 10 of 20 for 212 yards and three touchdowns.
For Turner, Moore rushed for 74 yards on five carries and the one touchdown.