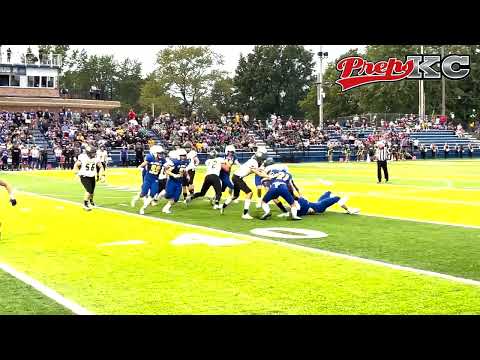 With No. 3 St. Pius X hosting No. 6 Maryville, it went about as expected and wasn't decided until the final snap.
A turnover on downs gave Pius the ball with 2:22 left in the game. It took just four plays and 1:16 for the Warriors to regain the lead on a 28-yard run by Larry Cascone.
Maryville had one last crack at it, moving the ball into the Pius red zone. But, on the final play of the game the Warriors got the sack and the 34-27 win.
"These guys battled and battled and I'm so proud of them," Pius head coach Anthony Simone said. "When you have a history of success, and the last two years with seniors and leaders that have put in the work to pave the way, you expect to win these games. These guys are no different. They're expecting to win football games. That's part of the culture here now."
For much of the first two quarters defense ruled the game.
Then the flood gates opened ... 21 points in just over two minutes of the second.
Maryville's Drew Burns opened the scoring, taking a reverse in from three yards out to give the visitors a 7-0.
That lead lasted all of 14 seconds.
Pius junior Grant Redd took the ensuing kickoff 89 yards to the house to even things up.
Maryville came right back with a 64-yard touchdown pass from Derek Quinlin to Burns less than one minute later and went back up by 7.
With 3:30 left in the half, Jackson Rotterman picked off a pass and took it to the Maryville 42.
Braydon McPhee's 27-yard toss to Reed McCann moved the ball inside the 10. McPhee then called his own number, and it was tied again.
In the final minute of the second, Maryville went back to the air and another pass to Burns put them on top 20-14 at halftime.
Pius took its first lead of the game on the first drive of the third.
The Warriors converted a fake punt which set up a 25-yard TD from McPhee to McCann, giving Pius a 21-20 lead at 7:39 of the quarter.
On 3rd-and-15 with less than one minute in the third, Rotterman hauled in a 41-yard TD and Pius led 27-20 after three.
Maryville quickly answered on their next possession. Cooper Loe's TD run knotted it up at 27 with under eight minutes to play.
"That was a great football team we just played, they are tough as nails," Simone said. "It's two teams that know each other very well. We knew going in that it was going to be that type of battle. That's what you expect every time it's St. Pius and Maryville.
Pius improves to 4-0 and is back home against Chillicothe next week.
Maryville (2-2) will travel to Cameron.