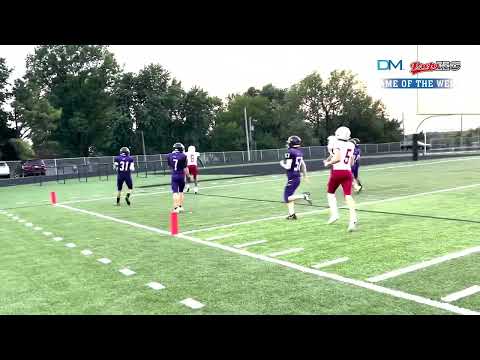 Atchison came into Friday night's game against Harmon has the prohibitive favorite, and because of that, they had a straightforward motto – don't take the Hawks lightly.
It was obvious from the start that wouldn't be a problem.
The Phoenix scored on their first play of the game and never looked back, rolling to a 72-0 victory in this week's DiPasquale Moore Metro Matchup Game of the Week.
"We just wanted to take care of business," Atchison head coach Jim Smith said. "We wanted to take care of what we needed to take care of. You never want to underestimate an opponent."
Added running back Jesse Greenly, "This was just a business trip as usual. We still came in with the same mindset to treat them like any other team. The first play set the tone. It was a good start. The O-line did a great job blocking tonight."
Atchison dominated on both sides of the ball. Jaden Carter intercepted a pass on the following possession and Greenly capitalized with a 12-yard touchdown run two plays later.
After a safety from the Phoenix, JZ Kelley returned the ensuing kickoff 60 yards for a touchdown.
The Phoenix special teams weren't done yet, as Ethan Watson blocked a Harmon punt on the next possession. Teammate Landen Bell scooped it up around the 5-yard line and slid into the end zone. Just like that, midway through the first quarter Atchison had a 30-0 lead.
Greenly was nearly unstoppable all game long, adding four more touchdowns before the half. Brenden Martin added a 10-yard interception return for a touchdown to make it 64-0 at halftime.
While Greenly found the end zone plenty, he sat the entire second half and turned into a positive voice on the sideline the rest of the way.
"He showed a lot of maturity tonight," Smith said of his senior running back. "He knew he wouldn't get as many carries tonight, but he showed a lot of positivity on the sideline. He's the kind of leader you hope for."
Greenly is spear-heading an Atchison offense that has scored 150 points through three games.
"We changed the offense this year to a little more up-tempo," Smith said. "We're just trying to get better every week."
The Hawks are trying to do the same, although on a smaller scale. Head coach Keith O'Neal knows that getting better every week might seem like baby steps at first. They are just trying to take it one game at a time.
"Our philosophy is to have a no-x mentality," O'Neal said. "We want to keep building and go back to the drawing board. Just take it one day at a time. We'll get there."
Harmon got a first down in the second half and made a few stops on the defensive side of the ball. They nearly got their first points of the season on a deep pass from Lucus Nelson to Carlos Campas.
"I almost jumped out of my pants," O'Neal said with a smile.
There was noticeably more energy and excitement from the Harmon players and fans in the second half, something O'Neal hopes to see more of in the future as he tries to build the program back up.
"What you saw from the fans and kids, that excitement, that's the future we want here," O'Neal said. "We need to get some momentum. From Week 1 to now, you can see progression."
Harmon (0-3) will travel to Topeka Highland Park next Friday night, while Atchison look to stay undefeated when they host Schlagle.