Photo Credit: Todd Habiger/Special to PrepsKC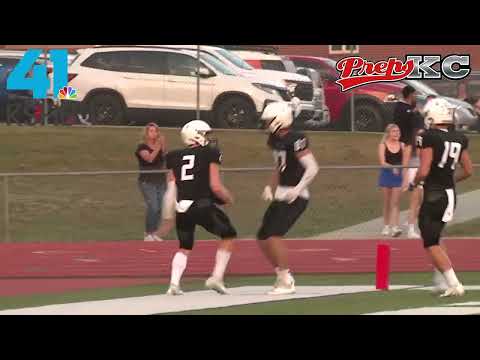 Mill Valley celebrates athletic milestones just like any other high school football program does. Except for maybe one difference. The Jaguars also celebrate milestones that their assistant coaches reach.
Following Friday night's 51-0 dismantling of 2021 Class 6A quarterfinalist Shawnee Mission Northwest, Jaguar head coach Joel Applebee and his assistants and players celebrated 12-year assistant coach Drew Hudgins and all he has done for the program.
"This is his twelfth year," Applebee said of Hudgins. "Tonight, was his 100th win as defensive coordinator. He obviously does a great job with our defense."
That he does. The Jaguar stop unit was all over the Cougars, limiting Bo Black's squad to 88 yards of offense and two first downs for the contest. The Jaguars held Shawnee Mission Northwest to nine possessions of three plays or less and 36 plays for the contest.
The Cougars (1-2) ran the ball 25 times for 40 yards and Shawnee Mission Northwest signal caller Logan Morley completed six of 11 passes for 48 yards. Malik O'Atis led the Cougars' ground game with 25 yards on 12 carries while William Flickinger reeled in three aerials for 33 yards.
Mill Valley, on the other hand, piled up 342 yards of total offense and 22 first downs. The Jaguars threw for 148 yards and ran for an additional 194 yards on 36 carries. Quarterback Hayden Jay accounted for 228 yards himself after completing 11 of 17 passes for 148 yards and two touchdowns and running the ball six times for 80 yards and another three scores.
Hayes Miller reeled in seven balls for 75 yards and a touchdown.
Mill Valley forced three turnovers while limiting their miscues to an interception. The Jaguar kicking game bottled up Black's offense throughout the game and didn't allow the Cougars to start a drive beyond their own 20-yard line until they took over at their own 40 on Shawnee Mission Northwest's final possession.
The Cougars reached their own 40 twice but never threatened to score.
"It really comes down to, it's a focused group," Applebee said of his club. "And you know, the senior class has a lot of experience in a lot of big games. They're a very focused group and that's the key. if they just continue doing what they're doing, they'll fare well each week. And they take a lot of pride in that, so I have no doubt, they're going to keep doing it.
"it's the kids. They prepare so hard and in all phases. They take a lot of pride in their preparation and for high school kids who are 16, 17, 18 years old they can lose focus – and this being homecoming week they had every opportunity to lose focus. They didn't. They came out and executed very well because of their preparation."
Jay opened the game's scoring on Mill Valley's opening possession when he kept the ball and raced to the right for a 24-yard score with 7:40 left in the opening quarter. The Jaguars went up 14-0 less than five minutes later when Jay found Brody Brigham open from 10 yards out.
Applebee's club added a second rushing touchdown on Amarian Grave's 2-yard plunge with 7:25 left before intermission. Jay rambled over from two yards out and two and a half minutes later connected with Miller for a 19-yard score to go up 34-0 at intermission.
The three-time defending Class 5A state champion Jaguars (3-0) traveled 51 yards in two plays to open second half scoring when Jay raced 44 yards to the left corner of the endzone just 46-seconds into the half. Sidney Lockhart took the score to 48-0 after crossing the goal line from four yards out and Mikey Bergeron tacked on his ninth point of the contest when he booted a 27-yard field goal moments later.
So far this season, Mill Valley, who didn't score in the fourth quarter, has outscored its opposition 156-7
Mill Valley travels to 3-0 Gardner-Edgerton next Friday while the Cougars try to get back on the winning track for the first time since opening week when they host 1-2 Lawrence Free State Thursday, Sept. 22.