Photo Credit: David Smith/Special to PrepsKC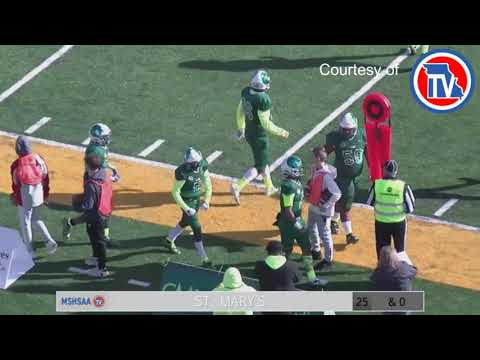 The combination of a potent offense and dominant defense proved to be too much for St. Pius X to overcome in the Missouri Class 3 State Championship today when the Warriors fell to St. Mary's, 56-0.
"They're a tough match up with athletes across the board," said St. Pius head coach Anthony Simone Jr. "They have athletes at every position and came out and performed today. They're the real deal."
It took St. Mary's six plays to score on the game's opening possession when senior quarterback Caron Spann connected with fellow senior Kevin Coleman for a 26-yard touchdown pass.
This was just the beginning of what would be a huge day for Spann who had his hand five of the Dragons touchdowns.
Pius' opening possession started strongly with a 53-yard kick-off return by sophomore Jayshawn Ross, but like most of the Warriors possessions on this day, it ended in a midfield punt.
Spann extended the St. Mary's lead to 14-0 on their next possession with a 23 yard touchdown run. For the day he finished with 275 yards of total offense and five touchdowns.
"This was a dream come true," said Spann after the game. "To be part of this program and win a State Championship is unbelievable.
In the second quarter St. Mary's really turned it on, scoring 28 points on their way to a State Championship.
While the Dragons offense was clicking on all cylinders, their defense was just as impressive holding St. Pius to 114 yards of total offense.
Warriors' senior quarterback Josh Mosh, in his final high school game, completed 14 of 24 passes for 119 yards. His leading receiver was Ross with three catches for 67 yards.
On the defensive side of the ball, Pius was led by senior Vincent Cox with eight total tackles. Ross and senior Aiden Coons both finished with six tackles apiece.
"Our game plan wasn't enough today," Simone Jr. said. "We tried to execute as best we could, we just ran into a really good football team."
With the loss St. Pius X finishes with a record of 12-2 and a second consecutive second place finish.
"I couldn't ask for these guys to play any harder than they did today, they did it with class and the way we preach," said Simone Jr. "We talk about it all the time, being champions and how it's not about winning championship trophies, it's about being a champion. I'm so proud that I can say these guys are champions, I am so proud of every single one of them."