Photo Credit: David Smith/Special to PrepsKC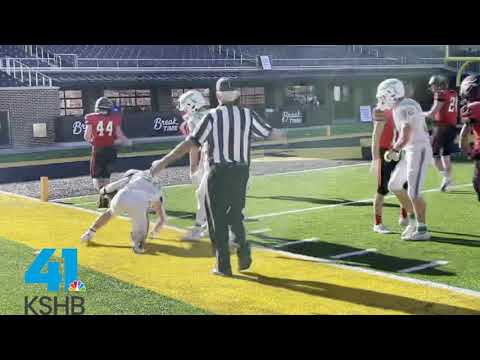 A little more than a year ago Smithville walked off the field against Helias Catholic devastated following a 13-10 loss in the Class 4 state semifinal game. Afterward, some Warrior players made a promise to head coach Jason Ambroson.
"A year ago, we lost to Helias, and I had to do some damage control in the parking lot," Ambroson said. "They looked me in the eye and said, 'coach, we're going to win it next year'."
They didn't let their coach down.
The Warriors rode a dominant defense and a balanced offense to a 31-0 victory over previously unbeaten Hannibal in the Class 4 state championship game at Faurot Field in Columbia Friday afternoon. It's the first state title in the history of the school's football program.
"There are a flurry of emotions," Ambroson said. "I've been here 28 years, so this is a big deal. The way the kids have played all year is amazing. From being preseason No. 1, to follow that through, the adversity they've dealt with, it's all them. They said they were going to do it and they made sure they did it."
From being ranked No.1 in the state wire-to-wire, to a perfect 13-0 season, to a point differential of 521-114, it was about as dominant a season as a team can have.
"To be with these guys and this team, it's sweet," senior Keltin Nitsche said of what it meant to win the state title.
"It really validates what we've worked for," senior Mason Crim said.
Added fellow senior and linebacker Sam Calvert, "It's a dream come true. We're all best friends, which makes it 10 times better."
Calvert and the rest of the defense put together maybe its most impressive performance of the season. The Pirates came into the season averaging almost 50 points per game and were especially lethal on the ground at 263 yards per game.
The Warriors defense never allowed Hannibal to get in a groove with the run game, holding them to 129 yards on 36 carries. Just as important were the big plays, as the Pirates only had two designed runs that went for 10-plus yards.
"We talked about that all week," senior linebacker Cody Simoncic said. "We knew how their offense was built on big plays. We had to make them snap it again."
And when Hannibal was put in passing situations, Smithville took advantage, intercepting three passes, including two inside their own 10-yard line.
"Team. Team," Ambroson re-iterated when discussing how the defense was so successful. "The defense came up big like they've done all year. When we needed a stop, they made a stop. It's a commitment thing."
The first interception came on Hannibal's first drive from junior Ryan Weers. The offense didn't waste any time capitalizing, as quarterback Andrew Hedgecorth hit Rhett Foster for a 54-yard touchdown strike on their first play from scrimmage to go up 7-0.
"I loved it," Hedgecorth said of the aggressive play call. "It was planned all week. We were going to see what their corners were doing. They pressed up, so we started with a big one."
After another stop from the defense, the offense did what they do best with a surgical drive of 13 plays that covered 69 yards. The big play on the drive was an 18-yard pass from Hedgecorth to Caleb Donnell on fourth-and-six. Five plays later, Hedgecorth found Nitsche for a 5-yard touchdown pass to make it 14-0.
Nitsche came up big on defense later in the quarter, intercepting a pass in the end zone in the final second to keep it 14-0 at the half.
Hedgecorth and Nitsche hooked up for another big play down the field in the third quarter, this one for 41 yards. Three plays later, Simoncic ran it in from 6 yards out for a 21-0 lead.
"Credit to the O-line," Calvert said. "Every play we're getting three to four yards. We pound it and then take a shot (down the field)."
After Simoncic picked off a pass with the Pirates driving late in the third quarter, Smithville put the game away with a patented drive from the offense. They covered 81 yards in 18 plays – 13 of which were runs – and took more than 9 minutes off the clock. Though it only resulted in a 24-yard field goal by Noah Schuetz, it was now 24-0 with only a few minutes left in the game.
"They have a lot of guys playing both ways," Hedgecorth said of the Pirates. "We stayed fresh with our defense getting stops and offense staying on the field. I thought that really started to show."
Preston Rash put the finishing touches on the victory a couple of minutes later, rushing for a 15-yard touchdown after the defense had forced another turnover.
The party was on for the Warriors. Ambroson gushed about his team after the game, and as he finished up his opening comments, he turned to the four players with him.
"You guys earned it," he said. "I couldn't be more proud."