Photo Credit: Nick Smith/PrepsKC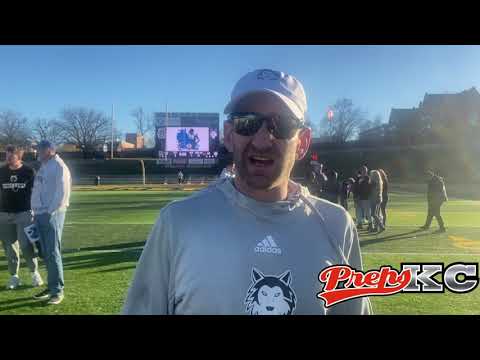 EMPORIA — Blue Valley Northwest might have been playing in its first state championship game in school history, but the Huskies looked like they had been there many times before in their 41-21 win over Derby on Saturday at Emporia State's Welch Stadium. The Huskies jumped out to a commanding 28-0 lead against the Panthers, who had won six of the last eight 6A crowns, and never trailed.
"I'm super proud of my guys," BVNW senior quarterback Mikey Pauley said. "This senior class with where we were four years ago and even as eighth graders stayed together because we knew we could do special things. We did something we've never done in school history."
Pauley and the Huskies (12-1) punched the Panthers (11-1) in the month from the start. After the BVNW defense forced Derby to go three and out on its opening possession, Pauley and company marched 80 yards on a 16-play drive to get on the board first. Pauley capped the drive with a 4-yard touchdown run. It was Pauley's first of four touchdowns on the ground (and five total), as he rushed for 157 yards on 21 carries.
"It was a state championship performance," Blue Valley Northwest coach Clint Rider said of Pauley. "The guy made plays when the pocket broke down. He continued to move the chains and we could lean on him whenever we needed to run the clock out. He made big plays to keep the offense moving and get us into the right protections. That guy means the world to me after working with him the past three-and-a-half years. I'm just thankful I got the opportunity to work with him."'
The BVNW quarterback scored on runs of 4, 19 and 2 yards in the first half and tossed a 20-yard touchdown strike to Nick Cusick. Pauley completed 15 of 21 passes for 186 yards. Senior wideout Steven Whitter corralled 10 of those completions for 112 yards.
"Derby hasn't seen a more balanced offense than us," Pauley said. "We knew we were going to have to throw it a little bit more. I trust my guys to go out there and make plays. Ball, athlete, space is what we said all week and that's what we did."
While the offense was firing on all cylinders, Rider was quick to say that his defense deserved a huge amount of credit for clinching the 6A title for the Huskies. The Panthers entered Saturday with a scoring average of 55 points per game and had scored at least 42 points in each contest except in their 6A quarterfinal win over Free State.
"I think our defense has been underrated for most of or if not this entire year," Rider said. "There might not be the standout guys that show up, but they've held really good teams to low scores—especially in the first half to allow the offense to score some points and get a comfortable lead and take the pressure off us. Those guys don't get enough credit for what they do. They fly around all year and are highly prepared. They're physical defensive unit. It's something that goes unnoticed. They showed today that they can play with anybody."
The main goal for the BVNW defense was the slow down dynamic Derby running back Dylan Edwards. The Panthers junior running back broke free for a couple of big runs, but the Huskies front seven also stopped him in the backfield on several occasions. Edwards finished with 28 carries for 191 yards and two touchdowns, but both scores didn't come until the fourth quarter. The Huskies defense also didn't allow Derby to complete any of its six passing attempts.
"The game plan was to shut him (Edwards) down. He's obviously the best player on their team and he put up more than 2,000 yards this season," junior Aidan Behymer, who tallied two sacks and 3.5 tackles for loss, said. "Our game plan was to keep him inside, not let him get outside and make sure he couldn't cut back on anyone. Everyone was swarming to the football. As long as we did that, we could limit him pretty well."
The Huskies shut out the Panthers until the 6:26 mark of the third quarter when Derby quarterback Drake Thatcher scored on a 39-yard run. However, Pauley wasn't about to be outdone. The Nebraska baseball commit gave their Huskies a quick answer, as he found pay dirt on another 19-yard run less than three minutes later.
Blue Valley Northwest took a 35-7 lead into the fourth quarter. A 14-yard touchdown run by Huskies junior running back Grant Stubblefield was sandwiched between Edwards' two scores.
"For our kids and community to experience is an awesome thing. Our kids and coaches deserved this," Rider said. "They've worked for it. It's not just our players. Our parents have poured their hearts and souls to building this team up. I'm just so happy for them to go out as champions."