Photo Credit: Gabrielle Elliott/Special to PrepsKC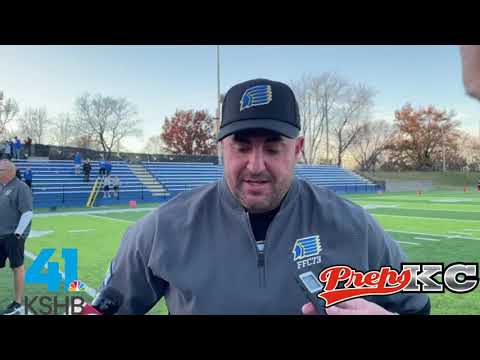 St. Pius X faced a lot of adversity on Saturday in its 21-20 win in the Class 3 semifinals.
The Warriors (12-1) trailed upset-minded Cardinal Ritter 20-14 when they got the ball with 11:06 left in the game.
The offense, led by Robbie Sharp and Jack Mosh, started picking up chunks on the ground — the biggest of the drive was a 30-yard run that gave the Warriors a chance to steal a victory from the jaws of defeat.
A few plays later, facing a fourth-and-3 from the Cardinal Ritter 10-yard line, and its season hanging in the balance, St. Pius coach Anthony Simone called a run to Sharp, the Lions' defense snuffed out the run, but Sharp somehow saw Mosh out of the corner of his eye and pitched the ball back to Mosh, Mosh then took the ball and floated it in the direction of Max Ervie, who ran into the end zone sending the Pius faithful into a frenzy.
"It was all in the moment," an emotional Simone said after the game. "That was freelance. It was a power play (the original play call). … That's the kind of football players we've got on this football team — highly intelligent football players. That was not a called play, that was them being football players."
Coming into the game, Simone and the Warriors knew they'd have their hands full against the Lions. Cardinal Ritter was physical upfront and established its potent rushing attack led by Artell Miller and Jamarion Parker.
With the Warriors keying on the run, and leading 8-7 late in the second quarter, Cardinal Ritter decided to use its passing game to extend its lead to 14-7 as Jayden Trotter threw a perfectly timed fade pass to Jalen Reynolds for an 18-yard touchdown.
Trailing 14-7 and looking to tack on a score just before the half, Pius called on its duo of Mosh and Sharp. Mosh took the snap and drifted to his right toward the Warriors sideline, running out of room, Mosh, planted his feet and threw the ball toward the end zone, the ball — which sailed over the head of Mosh's intended receiver — fell into the waiting arms of Sharp, who was standing in the end zone to tie the game at 14 at the half.
"The young man that made that play woke up to some bad news this morning," Simone said. "His teammates railed around him. It couldn't happen to a better kid. I'm just really proud of our kids."
With the win, St. Pius will play in its second consecutive state championship game. The Warriors will play St. Mary's in the Class 3 State Championship game Saturday in Columbia.
Simone said it means a lot to his team and the community of St. Pius.
"We've got a lot of great families, great players, we've got a lot of great football coaches here," he said. "When you're able to put all those things together and you do it the right way. … Football is a small piece of what we do."