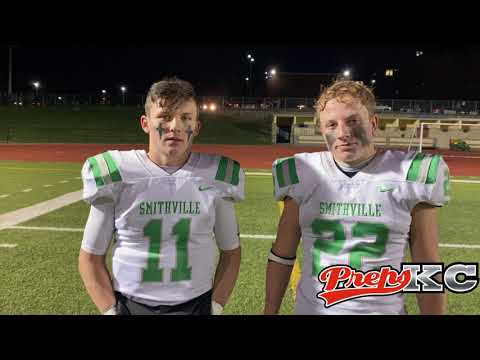 In a battle of unbeatens, Smithville overcame some early adversity and kept its remarkable season rolling right along.
The Warriors fell behind early against a strong Lincoln Prep squad but turned things around down the stretch on the way to a 29-14 victory in the Class 4 quarterfinals at Southeast High School.
Despite an uncharacteristically slow start, Smithville ultimately scored 22 unanswered points thanks to the efforts of running back Caleb Donnell, who ran for two touchdowns, and a defense that forced four turnovers – all of them inside its own red zone.
In the process, Smithville (12-0) advanced to the Class 4 semifinals for the third time in four years, and coach Jason Ambroson said he was pleased to see how well his team responded to perhaps its biggest challenge all season.
"They played a heck of a football game, made us work for every inch," Ambroson said of Lincoln Prep. "But I felt like we calmed down. We weren't ready for it at first, which I told them they should be. Until you're in it, you don't know it.
"I felt like the second half, we had total command."
For much of the first half, however, the Blue Tigers (11-1) controlled the action behind a punishing running game that netted them a district championship last week.
Quarterback Zack Shelby put Lincoln Prep in front on the very first drive with a short rushing touchdown. And after a fantastic interception by Antonio Jones, running back John Price helped the Blue Tigers re-take the lead on a one-yard plunge late in the second quarter, giving them a 14-7 lead.
"I think our kids were excited and ready to play," Lincoln Prep coach William Lowe said. "We wanted to play physical, and that was a huge drive. We've been able to do that the last couple weeks, and I think in high school, a lot of it's about belief.
"They were confident they were going to go score."
Smithville answered on the very next drive when Donnell leaped over multiple defenders for his first touchdown, resulting in a 15-14 lead after a successful two-point conversion.
Leading by a single point at halftime, the Warriors took possession and promptly marched down the field, converting multiple third downs on the way. Once again, Donnell finished the drive with a touchdown run that extended Smithville's lead and helped them regain the momentum.
"That definitely made a statement to them," Donnell said of the crucial drive. "We shed half the clock in the third quarter off of one drive, and then putting in seven. There's not much better than that."
Donnell's performance was even more impressive considering the circumstances. Smithville recently lost star running back Hayden Sigg to a season-ending injury, but Ambroson said he's been impressed with Donnell's ability to shoulder the load in the backfield in addition to his outstanding defensive play.
"It talks about how tough he is and how tough of an athlete he is," Ambroson said. "And it also shows not having (linebacker) Derek Boyd and Hayden Sigg, we have to have other guys step up and be ready to go, and how valuable they are to what we do."
Lincoln Prep soon threatened to cut into the lead after another lengthy drive into the red zone, but Smithville recovered its third fumble of the game at its own 18-yard line to keep the Blue Tigers' at arm's reach.
On the very next drive, Smithville quarterback Andrew Hedgecorth turned in one of the plays of the game when he faked a toss play, kept it himself and raced 45 yards for a touchdown – his longest run of the year, by his estimation. It put Smithville in front 29-14, which proved to be the final score.
"It was very exciting," said Hedgecorth, who also threw a touchdown to Sam Calvert early on. "We called that play, and I had a good feeling that it was going to work. I didn't know it was going to be a 45-yard touchdown, but I knew it was going to be a big play. And it was the dagger."
Lincoln Prep put together two more impressive drives thanks to the hard-running of Price and Jayden Sudduth, but both drives came up short, as Smithville's Keltin Nitsche snagged an interception in the final minutes that sealed the deal.
"Our defense has been doing that all year long," Ambroson said. "We haven't let people down there (in the red zone) that much, but they did a good job. When we were pressed, we bowed our neck, and said, 'No, not tonight.'"
Despite the loss, Lincoln Prep put together one of the best seasons in program history, and Lowe's message to the Blue Tigers focused on how much they had accomplished during a historic run to a district championship.
"Things have gone our way all year, and we just had a couple bad breaks against a really good team," Lowe said. "It came back to hurt us, but I told the kids to hold their heads high. That's going to happen in life, and just be proud of what you accomplished and how well you played."
Now Smithville turns its attention to its semifinal matchup against the winner between MICDS and St. Dominic, who play on Saturday, and Hedgecorth said the Warriors are eager to take the next step after semifinal appearances in 2018 and 2020.
"It's exciting, but we know that we've been shut down twice in the last three years," Hedgecorth said. "We've got to prepare this weekend. Not worry about what happened tonight, but move forward and know that we've got a good team whoever wins that game.
"We've got a good team coming, and we've got to get ready to go play."