Photo Credit: Jeff Stead/PrepsKC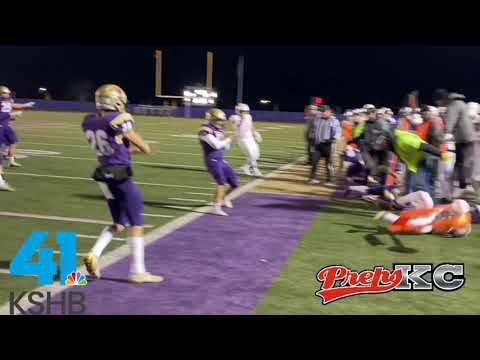 Complete Box Score and Stats
St. Pius X had been waiting for its first complete game of the year.
That moment came Friday as the Warriors got points on offense, defense and special teams, defeating Pleasant Hill 42-13 in a Missouri Class 3 quarterfinal.
The Warriors scored 28 points in the second quarter to advance to their second straight semifinal, this time in Class 3 after reaching the Class 2 finals a year ago.
"When you say you are peaking at the right time, I think this was by far the best we've played this year," St. Pius X coach Anthony Simone said.
Offensively, the Warriors scored on every first half possession and took a 35-7 lead.
The first two scores came when quarterback Jack Mosh found Jayshawn Ross for touchdowns of 36 and 11 yards.
On the first score, Ross, a 6-foot-4, 220-pound receiver, zigzagged across the field before finding the end zone. On the second, he out jumped the defender.
"Physically we were outmatched at times, especially with (Ross), '' Pleasant Hill coach Justin Hamilton said. "I don't know that there's anyone who can guard him just because of what he is physically."
The Warriors quickly scored again when Vincent Occhipinto picked off a pass giving St. Pius X the ball at the Rooster 14.
Robbie Sharp would then score two of his game-high three touchdowns.
And while the offense was clicking, it was the Warrior defense that was able to keep the potent Pleasant Hill offense from finding any rhythm.
"The key and focus for us was to stop them on first down, because if they have success on first down, that's when they go fast," Simone said.
Trailing 28-7 with a minute left in the first half, Pleasant Hill tried to get some life breathed into their squad by scoring to go into the half. Instead, things went from bad to worse. A screen pass was intercepted by senior defensive lineman Francis Paul who rumbled 50 yards to the end zone.
"That felt like it buried them," Sharp said. "The energy from the crowd was gone and having it going into half, it can be demoralizing. To go up 28 points and need just one more score for a running clock, that was huge for us."
Sharp made short work of getting to the running clock, taking the opening kickoff back for a touchdown.
St. Pius will move on to face the winner of Cardinal Ritter and Owensville. The Warriors would host Cardinal Ritter or travel to Owensville.
For Pleasant Hill, the loss ends a magical postseason that included avenging two regular season losses and a season-ending loss from a year ago.
"We can feel sorry for ourselves now, but two years ago this was an 0-10 football program," Hamilton said. "Last year we won two games and this year we are a state quarterfinal football team. I told our seniors, they helped establish the culture of what we want to do here."