Photo Credit: Jason Burritt/Bay's Creek Photography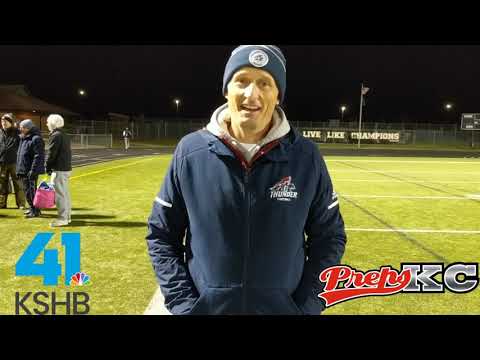 When it came time for the trophy presentation, there was only one player who could bestow the honor of receiving the plaque on his team's behalf. He was the best player on the field on a special night for the St. James Academy football program.
Tyler Claiborne took about 10 steps toward St. James Athletic Director Jared Herzet to accept the award with a handshake. With plaque in hand, the receiver turned around and valiantly lifted the Thunder's second consecutive Class 4A Sub-State championship plaque, much to the delight of his elated teammates.
That's when the celebration began.
St. James routed Bishop Miege 42-19 in a state semifinal contest Friday night at Blue Valley High School to punch a ticket to a second consecutive state title game appearance. The defending state champion Thunder, who have now taken four the last five games against the Stags, displaced Miege in the same round last year, which ended the perennial power's six-year run as state champs. Now, St. James looks to start a streak of its own.
"It feels great to have a chance at another state championship in my senior year," Claiborne said. "I'm proud of all these seniors and we just have to have a great week of practice."
"It's huge," St. James coach Tom Radke said when asked the meaning of this win to the program. "When we started 0-4, people began writing us off again. We knew what we had. … We beat a good team and a great program, but we showed what St. James football is all about tonight."
The Thunder will take on Andover Central, 42-21 winners over Buhler, in the season finale at 1 p.m. Saturday, Nov. 27 at Hummer Sports Park in Topeka. Andover Central has been to two of the last three state title games, falling to Miege most recently in 2019.
"That's a good team," Radke said of Andover Central. "I've watched them a little bit and they have some skill guys out there that hit. That's going to be a fun game."
The 6-foot-3 Claiborne enjoyed a career night in a win-or-go-home scenario, tallying 12 catches for a whopping 259 yards and three touchdowns. His quarterback, junior Jackson House, dished up 322 total passing yards and four TDs, while completing 20 of his 25 pass attempts.
"They tried to take away (John) Niesen, our other great receiver," Radke said. "But Ty is the guy who makes the whole team run. I'm so proud of him to have a game like this."
Niesen, a 6-3 junior, attracted more attention from the Miege defense based on Niesen's recent string of strong play. It's been a pick-your-poison type of situation for SJA opponents all season with the lengthy duo.
"We feed off each other's energy," Claiborne said. "We want each other to succeed, we're brothers, and we want what's best for each other. That's what's special about us."
The defense also played a critical role once again, as they recovered two turnovers that turned into two scores. As Miege coach Jon Holmes put it, that may have been two too many.
"We knew tonight that we'd have to be almost perfect and that we couldn't turn the ball over," Holmes said. "We did twice, and they got 14 points out and that was the difference in the game.
"This is really the first game we've done that," Holmes said. "We haven't really turned it over in the red zone. We felt really good about our gameplan, and we wanted to grind the ball with Jaylen Burch; he's a special player and he showed that tonight."
Burch, a senior back, tallied 202 rushing yards and two touchdowns on 30 carries. Junior quarterback Mac Armstrong completed 21 of 30 passes for 180 yards and one TD.
Miege finished the campaign with a 5-7 record.
"I was proud of their effort," Stags coach Jon Holmes said. "That's what I told them. To endure what we did to get here, it was obviously disappointing ending up a game shorter than where we wanted to be, but proud of the fight these guys had."
The Thunder, who won the regular season matchup 45-28, jumped out to a 21-0 lead with a strong game-opening drive – 15 plays, 80 yards, capped by a Tiave Watts 1-yard run – a Tre' Clark fumble recovery that turned into an 80-yard return for a touchdown late in the first quarter, and a Claiborne 55-yard touchdown reception.
Miege refused to go into the break without a score. After Armstrong connected with Rohan Putz on a crucial fourth down for 21 yards, Burch scored on a four-year rush to cut the lead to 21-6 with 8:23 left.
St. James, however, struck again before halftime. After trading defensive stands, House tossed a 15-yard dime to Niesen to make it a 28-6 lead headed into the locker room.
The Stags came out with some juice in the third frame, thanks to 44 rushing yards from Burch, capped by a 16-yard rushing touchdown to inject some life into the Miege sideline and crowd. The Stags then forced SJA to punt, only heightening the excitement and anticipation. However, St. James' defense went back to work, creating another turnover, this one recovered at the Thunder's own four-yard line. The next play featured a House-to-Claiborne connection that went for 96 yards and the score.
SJA's defense held Miege to a late touchdown – a Tommy Wright 5-yard touchdown pass from Armstrong – and Claiborne hauled in his final touchdown pass in the fourth quarter.
"It was a dominating performance on offense and defense," Radke said. "Ty Claiborne is a special football player and a leader."
And the one most qualified to hoist that Sub-State plaque.