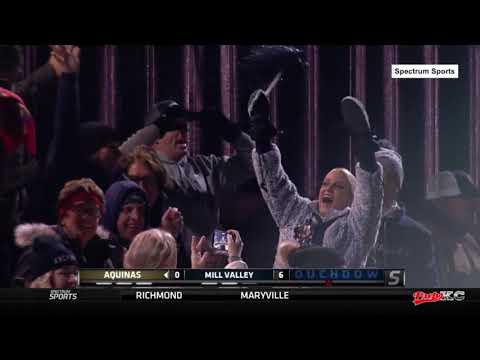 For the third straight season, the 5A sub-state bracket in the east boiled down to Mill Valley against St. Thomas Aquinas and for the third straight year it was the Jaguars who emerged the victors, in an entertaining 35-19 finish.
Mill Valley certainly did its part to earn the win, putting up 268 yards of total offense and connecting on several big passing strikes that resulted in scores. In short, the Jaguars executed like the team and program boasting back-to-back state championships. Meanwhile, for head coach Randy Dreiling it's an Aquinas defeat that will haunt him for years because of miscues and misfortune.
"We turned the ball over and gave them a score, had a lineman downfield on a touchdown pass that was taken away," a dismayed Dreiling recalled afterwards. "You can't do those things against this team."
"I thought our offense fought hard and our defense played outstanding, but it's going to hurt for a long time. Probably until I'm 102."
Despite the Saints piling up some 323 yards of offense on a Mill Valley defense that had allowed just 21 points over its past five games, Aquinas simply wasn't able to capitalize either from their own undoing or a relentless attack from the Jaguars up front.
"Huge," senior defensive lineman Aidan Shaffer said of the importance his unit put on impacting the game. "If you can't dominate the line of scrimmage against a flexbone team, you're not going to be very successful."
"We knew we were going to have to play well defensively," Mill Valley head coach Joel Applebee added. "They're a tough, physical offense to defend but I couldn't be more proud of our defense. They were so disciplined in their assignments."
It was actually the Jaguars defense that got the night rolling for a crazed home crowd.
During the first possession for Aquinas, senior pass rusher Cody Moore sacked quarterback Maxxwell Ford for a three and out, and Mill Valley followed that up on the Saints second possession by applying enough pressure to disrupt a backfield exchange, leading junior Grant Rutkowski to collect a fumble recovery. Both plays amounted to zero points for Mill Valley early on but lucky for Applebee, his squad wasn't close to done.
"We knew we had to get some," the Mill Valley leader said of winning the turnover battle 4-0 on Friday. "That first touchdown on the turnover was huge. That's what we needed at that time, that spark. It was big time."
The spark came courtesy of a Rutkowski strip and Moore scooping for the game's first points with just 0:02 left in the opening quarter.
The Jaguars would add another score before halftime on a 36-yard pass from junior quarterback Hayden Jay to senior Jared Napoli, and Mill Valley would take a 14-7 lead into the break.
A revitalized Aquinas struck quickly in the third, regaining momentum with the roar of the visiting fans after Sa'o Siavi'i blocked punt led to a punch in touchdown from junior Sean Carroll to make it 14-13. However, Mill Valley's Broc Worcester managed his own special teams block on the PAT and allowed the Jaguars to hold a narrow lead.
Twice more in the third quarter the Saints would make a case to seize control only to watch the Jaguars find a way to make big play after big play. There was a Ford fumble on a key Aquinas offensive series that pushed into Mill Valley territory — a turnover that resulted in a 50-yard strike to senior receiver Aidan Jacobs. Then came a strike from the Saints on a 34-yard drop into tight end AJ Marozas, but the two-point conversion was dropped, preserving a 21-19 advantage for the Sunflower League champions.
Another bomb to Napoli on a third and six put Mill Valley up 28-19 heading into the fourth and the reigning champions never looked back from there.
"That's just what this program is about," Napoli proclaimed in victory. "Big games."
"We come in and lift, watch film every day, get up here at 6:30 in the morning just grinding to try and get here. We work hard every summer and this is where all that hard work pays off."
"They already had the work ethic and understanding of what it takes to get there," Applebee said of his 2021 roster. "But we've seen this team improve and improve and improve. I just feel like this group of kids recognize the process and understand the expectation."
That process is something Dreiling hopes translates to his side next year, where the Saints return all but 10 players from a well tested 7-5 squad this season.
"The schedule we played, we had to be ready each week and I was proud of the way we responded to the challenges we had," the decorated head coach detailed. "But bottom line is we didn't win enough games and we've got to quit making mistakes next year if we want to be going to the next game."
"We do have a lot of young guys but there's no hanging our hats on anything tonight, it's just hanging our heads."
Meanwhile, Mill Valley now prepares for a Thanksgiving weekend trip back to Pittsburg where they'll face a talented 10-2 Maize team headlined by heralded junior quarterback prospect Avery Johnson.
"You always need to get your mind right and get locked in, but it definitely helps we've been there before," says Shaffer. "We know what to expect, we know how to prepare, and we know how to handle adversity in the big games like that."
"Obviously being close to Brandon [Clark] we'll talk a little bit but we're also a different team than Derby," Applebee finished, alluding to his relationship with the Derby Panthers head coach to gain insight on his final 2021 opponent (one Derby beat 42-41 in a week six thriller). "I know Maize has a really good quarterback and from what I've heard their tailback is pretty good too, so we'll take a look at it starting tomorrow."