Photo Credit: Karl Zine/The Examiner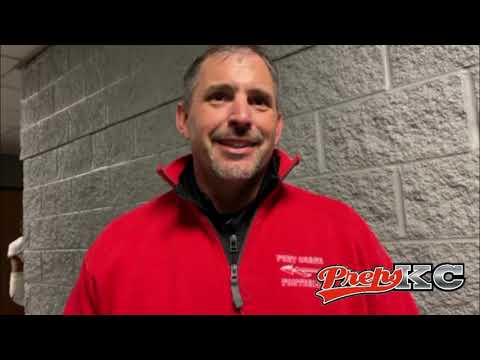 What a difference a year makes.
Fort Osage, who went 3-7 a year ago, finds itself in familiar territory once again as they defeated Grain Valley 35-0 in the Class 5 quarterfinals on Friday behind a stout defense and deadly rushing attack led by Greg Menne and Javen Hall.
"That's what we do," Fort Osage coach Brock Bult said. "We wear teams down. We hit them in the second half and see how they (Grain Valley) respond."
After playing the first half to a scoreless tie, Fort Osage's offense woke up in the second half as it scored on four straight offensive possessions.
Perhaps the most impressive drive, was the opening drive of the half as the Indians marched down the field in 13 plays. The drive nearly stalled out before it even got started.
Facing a third-and-14 at its own 20, Bult called on his dynamic duo to pick up the first down as Menne connected with Larenzo Fenner for 41-yards.
Hall capped off the 13-play, 76-yard drive on fourth-and-goal with a 3-yard run to give the Indians a 7-0 lead. Hall finished the game with 86 yards on 16 carries.
"I felt a lot better about our offense tonight," Bult said. "I felt like they were moving the ball with the pass or the run. I thought Menne got the ball where it needed to be."
After forcing Grain Valley to punt on its ensuing possession, Fort Osage's offense wasted no time extending its lead to 14-0.
This time, it was David Jacquez's turn as he plunged his way into the end zone from the 1-yard line.
After the flood gates opened, the Indians defense decided to get in on the scoring as Riley Hall recovered a DJ Harris fumble 19 yards for the touchdown to give the Indians a commanding 21-0 lead.
"You could just tell our guys got that extra hop in their step," Bult said. "We kept building on top (of it). That's what we talked about. Just keep doing what we do and eventually we'll break them."
Fort Osage tacked on two late touchdowns in the fourth quarter to put the game out of reach. Corey Olvera scored from 4-yards out and freshman running back Ryver Peppers capped off the night with a 47-yard run.
With the win, Fort Osage will play at Holt in Wentzville Friday for a chance to play in its fifth state championship game since 2009.