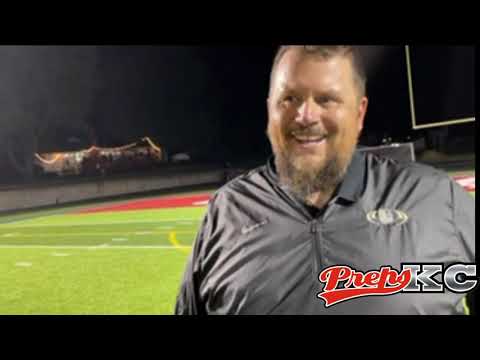 Trailing 28-23 midway through the fourth quarter, Blue Valley knew it needed to get a stop in order to get the ball back and have a chance to win the game.
With their backs against the wall, facing third-and-4 at their own 43-yard line, the Tigers defense came up with the stop as a Mac Armstrong pass intended for Rohan Putz fell incomplete, giving the Tigers one last chance to steal the victory at Bishop Miege's Dixon Doll Stadium Friday.
"(It was) huge," said Blue Valley coach Allen Terrell, whose team improved to 5-1 on the season with a 31-28 win over Bishop Miege. "We made a couple of adjustments at halftime. … Basically we went back to our base stuff. We stopped trying to be so dang fancy. We just challenged the kids and they stood to it."
After forcing the punt, the Tigers took possession at the Stags 20-yard line with 5:44 left in the game.
Then came the final drive of the game and it was the most impressive final drive a coach could ask for. The 18-play, 80-yard game-winning drive was capped off by Michael Solomon's 10-yard run with 23 seconds left on the clock.
"It's a challenge because (Andre) Davis and (Sterling) Lockett provide so many problems in the receiving game if they do choose to throw it. You've got to honor that every play," Bishop Miege coach Jon Holmes said. "You know they got us on a stretch (run). They pinned our end in and got the edge and scored."
Trailing 31-28 with seconds left in the game, the Stags had one last chance to force overtime, but it wasn't meant to be as Stephen Neenan's 47-yard game-tying field goal attempt was blocked as time expired, sealing the win for the Tigers.
That type of win, Terrell said, was big for his team going forward, because it showed they can compete with championship caliber teams.
"It's very difficult to come into this stadium and get a win," Terrell said. "You've got so many things going against you, mainly the guys in blue jerseys tonight. They are so well coached. They play with discipline. They (Miege) don't beat themselves. … our kids just buckled down and took care of business."
The first half featured a lot of fireworks, Blue Valley opened the scoring with Charlie Weinrich 44-yard field goal to give the Tigers the quick 3-0.
The Stags answered the Blue Valley field goal with a touchdown as Jaylen Burch scored his first of three touchdowns of the game as he corkscrewed his way into the end zone with a 5-yard run to give Miege the 7-3 lead. Burch finished the game with 180 yards on 33 carries and three downs.
"You can't tendency them," Terrell said of Miege's dynamic offense. "They are so balanced, and they have so many weapons. Our job was to try and stop him tonight, maybe we slowed him down when we needed to, but we definitely didn't stop him."