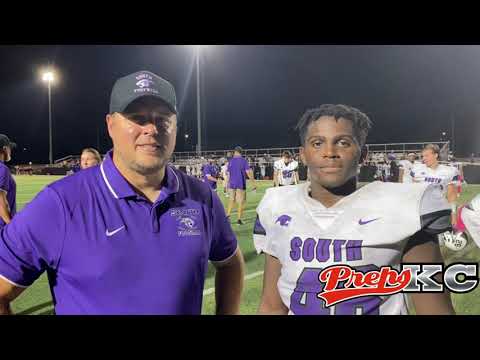 Thanks to a stellar defensive effort, Park Hill South continued its remarkable run and kept its undefeated season rolling right along.
The Panthers forced two crucial red zone stops late in the game and emerged with a 7-0 victory against conference rival North Kansas City on Friday.
With the victory, Park Hill South (7-0) took a major step toward clinching a conference title, and coach Alan Wilmes said he was thrilled to see the team come through in the clutch to keep their perfect season intact.
"We did just enough to get the win, and that's what we said," Wilmes said. "We've just got to score one more than the other guys, and that's what we did."
From the get-go, defense ruled the day for both teams, and neither squad was able to generate much momentum early on. The fact that Park Hill South had to play without several key contributors, especially running back Briggs Bartosh, made it even tougher.
But the Panthers scored the game's only touchdown early in the second quarter when quarterback Nathan Ricco connected with Mudia Reuben on a 14-yard scoring strike, giving Park Hill South the lead for good.
Park Hill South had scored at least 22 points in every other game this year, and Wilmes credited the Hornets' tough defensive front, which includes standouts like Domonique Orange, Edric Hill and AJAdebawore, for such an intense defensive slugfest.
"Hats off to them. They've got a great defense," Wilmes said. "You're not going to see pretty much a better d-line anywhere. We think our d-line is just as good, but those guys are monsters in there. They make it really tough."
Big plays from Panthers' running back Lucas Oitker and receiver Hayden Klein put Park Hill South in position to add to the lead during the third quarter, but that's when North Kansas City (3-4) rose to the occasion.
Defensive back Emmanual Nak made an incredible play on a tipped ball, making a diving interception that sparked the Hornets late in the third quarter. North Kansas City hadn't gained a first down on its previous five drives but found its rhythm at the right time, driving into the red zone for the first time before turning it over on downs at the Panthers' 13-yard line.
After forcing another punt, the Hornets again drove into the red zone in the final minutes thanks to the efforts of running back J'Len Friar and receiver Larry Porter. But on third down, Park Hill South's Torrin Zeigler forced a fumble, which was recovered by Damien Crawford.
Senior Roger Guillory, the Panthers' leading tackler, said the entire defense has continued to improve and kept believing it would be able to make a stop when it mattered most.
"We were just telling each other, 'Dig deep. Give it all we've got. Just get this stop,'" Guillory said. "We're all tired, all starting to hurt. We've got four minutes left, just give it all we've got."
Even with some missing pieces on offense, the Panthers' defense has been better than ever the past few weeks and has allowed seven or fewer points each of the past three weeks. It also marked the team's second shutout of year.
Park Hill South came up with one more pivotal play in the final minutes when the team recovered a dropped punt that sealed the deal, and the Panthers face upcoming conference matchups against Lee's Summit and St. Joseph Central the next two weeks that will determine whether they're able to secure the league title.
Before looking ahead, though, Wilmes said he was glad to see so many of his players step up in such a hard-fought game and add another victory to the team's perfect start.
"We knew it was going to be a close battle and knew that we were going to have to make plays," Wilmes said. "I'm super proud of those guys."