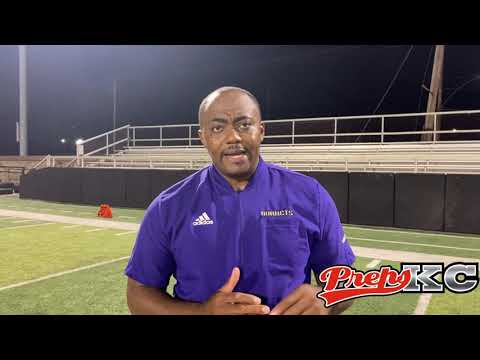 Facing a crucial early-season test, North Kansas City saw its immensely talented defense rise to the occasion and also benefitted from a stellar, three-touchdown performance from receiver Chase Porter.
In a battle between state-ranked district rivals, the Hornets relentlessly swarmed Fort Osage from start to finish on the way to a 28-13 statement victory. North Kansas City recorded 11 sacks, including 3½ from Kaden Torres, to put the clamps on the Indians' high-scoring offense.
Factor in the three touchdowns from Porter, who reeled off a decisive 92-yard catch-and-run in a crucial situation, and it's easy to see the team's potential for another strong season.
Hornets' senior defensive lineman Domonique Orange contributed five tackles and 1½ sacks of his own and said the team's preparation and intensity made the biggest difference.
"Honestly, I feel like this was the most prepared we've been," Orange said. "This week, we actually locked in, took everything seriously, and that helped us in the long run."
Porter's first touchdown gave the Hornets the lead, and both defenses started turning in highlight plays during the opening stages. Fort Osage's Ryan Thorpe snagged an interception, and then NKC's Jaden Browning forced and recovered a fumble, leading to a field goal that put the Hornets' up 9-0 early in the second quarter.
But the Indians soon clawed their way back into the game thanks to their own group of playmakers.
After a kicking a field goal, Fort Osage recovered a fumble and took the lead when quarterback Greg Menne found Aaron Henson in the end zone to put the team up, 10-9, shortly before halftime.
It didn't take North Kansas City to retake lead for good when quarterback JJ Johnson threw a slant route to Porter with 23 seconds left in the first half, and the Hornets kept rolling thanks to a touchdown run by Jermaine House, Jr., during the third quarter.
But Porter saved the best for last when he took a pinpoint pass from Johnson, broke a tackle and raced 92 yards down the sideline that sent the entire crowd into a frenzy.
"That's his talent," North Kansas City coach Leon Douglas said. "Even last year, you saw glimpses of that. The thing is him bringing it week in and week out and preparing through the week to where that can be the starting point each week.
"Because he is a great talent."
The same could be said for the entire Hornets' defense. Edric Hill contributed 2½ sacks, and Adepoju Adebawore tacked on two more for a defense front that rarely allowed Menne any time to get the ball downfield.
Of course, the secondary also played its part to perfection. Cornerback Keilan Powell helped slow down dynamic Fort Osage receiver Larenzo Fenner, who finished with two receptions for 45 yards, and Menne was limited to 68 passing yards.
In fitting fashion, the final play of the game saw Torres record the team's final sack, and Douglas praised the entire defensive unit for limiting a dangerous Indians team to just one touchdown and three points in the second half.
"Today, we were able to be successful winning early down, getting in second and long and third and long situations and really allowing our guys up front being special," Douglas said.
Porter finished with 192 receiving yards and three scores, while Johnson passed for 261 yards. House and J'Len Friar led Hornets' running game, which found it tough against a stout Fort Osage defense, but still combined for 77 yards and a score.
There's a good chance these teams will meet again during the Class 5 District 8 Tournament, but for now, Orange said this important victory will lift the whole team and display how much potential the Hornets have this year.
"It was huge," Orange said. "We had a rough start with Raytown and kind of felt like we struggled with St. Joe. This week, it was a huge jump for us, and we're finna have a great season."