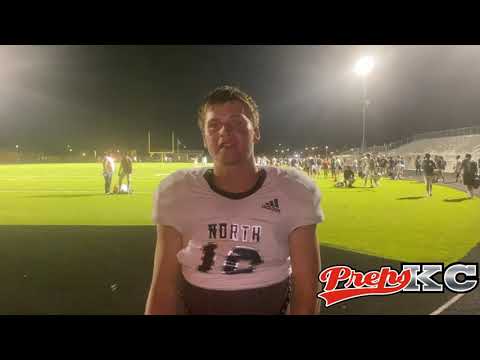 Blue Valley North wide receiver Jaxon Goldberg was disappointed in himself for drawing a penalty that pinned the Mustangs by their own goal line in the third quarter on Friday against Blue Valley West, but quarterback Henry Martin wasn't about to let his wideout's confidence be down. Martin called Goldberg's name on the very next play, connecting with the 6-foot, 188-pound receiver for a 99-yard touchdown pass.
Martin tossed two of his six touchdown passes to Goldberg, as the dynamic duo guided the Mustangs to a 42-21 win over the Jaguars in Blue Valley West's first game as the home team in the new district stadium on the West campus.
"I know when I've got one on ones with just about any of my receivers that I can go there," Martin said of his 99-yard dime to Goldberg. "I saw the safety and he didn't go over the top, so I knew exactly where I was going to go."
The Mustangs' win over the Jaguars marked the second straight week that Martin threw six touchdown passes. Martin completed 21 of 32 passes for 397 yards, six touchdowns and one interception.
"He's just incredibly talented," BV North coach Adam Pummill said. "He's makes me look a lot smarter than I am most of the time."
While Goldberg paced the North receivers with six catches for 252 yards and two touchdowns, Martin spread the wealth by completing passes to six different wideouts. Mekhi Miller matched Goldberg's two touchdowns and caught four passes for 20 yards. Cole Stratton (six catches for 53 yards) and Lucas Bullock (three catches for 51 yards) had a touchdown catch apiece.
"We feel great. Our scheme is amazing," Goldberg said. "We've got six guys (offensive skill players) that can do anything on the field. We just feel confident."
As the BV North offense kept rolling, Pummill was pleased to see the Mustang defense make some big strides from Week 1 to Week 2. The Mustangs shut out the Jaguars in the first half, which concluded with a goal line stand.
"That was kind of our hidden gem coming into the season. We knew our defense was going to be extremely improved," Pummill said. "This group is as well coached as any group I've ever seen. It's led by (defensive coordinator) Derek Wilson and the assistants. They're tough, fast and tackle extremely well for this level."
The Mustangs pushed their lead to 42-7 when Martin found Stratton over the middle for a 3-yard touchdown pass with 1:08 to go in the third quarter, but the Jaguars didn't fold going into the final quarter. BV West quarterback Gage Roach proved that he had a strong arm as well by throwing a 27-yard TD pass to Braxton Symonds and a 39-yard TD toss to Jack Schneider in the fourth quarter.
Roach also found Andrew Coltharp over the middle for a 45-yard touchdown pass in the third quarter. The Jaguar quarterback completed 16 of 29 passes for 262 yards, three touchdowns and an interception. Coltharp corralled five receptions for 112 yards and a touchdown to lead the BV West receiving corps.
BV West compiled 472 yards of total offense to BV North's 454. Sage Huffman did the heavy lifting in the Jaguar rushing attack with 25 totes for 151 yards.
"What we needed to do was finish drives and execute and keep them from doing the same. That was just how it went," BV West coach Josh Koerkenmeier said. "They did a great job of executing their game plan. Kudos to them. They played a great game, and we made more mistakes than they did. We feel good about some things that we did and just need to correct some mistakes. We'll be OK."
The Jaguars (1-1) will try to bounce back against St. James Academy at 7 p.m. Friday at Blue Valley District Athletic Complex-Antioch.
The Mustangs (2-0) will aim to remain unbeaten when they take on Blue Valley Southwest at 7 p.m. Friday at Blue Valley District Athletic Complex-Switzer.