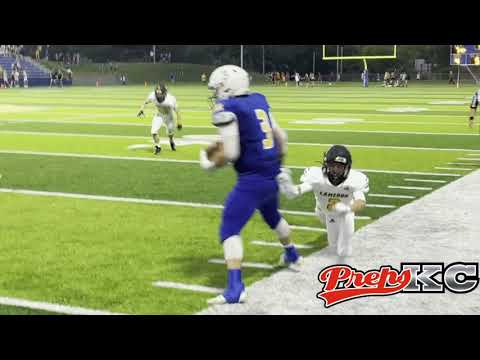 A 21-point second quarter propelled St. Pius X to a 48-0 win over Cameron on Friday night at St. Pius X High School.
The Warriors took advantage of two miscues in the closing minutes of the first half to spark the burst and never looked back.
"We started a little bit slow, and were a little sloppy out of the gate," Pius X Head Coach Anthony Simone said. "We started to clean some things up, but still have some work to do before next week. We'll enjoy the win, but there's a lot of cleaning up to do."
After turning the Dragons away on 4th down at their own 31, the Warriors (3-0) put together the game's first scoring drive. Senior running back Robbie Sharp capped the 69-yard drive with a 13-yard TD run and it was 7-0 with 1:09 left in the first.
A fumble recovery set up the Warriors' next score. Pius marched 76 yards on the ensuing drive, ending with Sharp's second TD and it was 14-0 at 5:52 of the second.
That's when costly mistakes turned the game heavily in the home team's favor. A punt downed at the Pius 27, resulted in a touchdown pass to sophomore Jayshawn Ross, and the Warriors' second fumble recovery of the half led to another Jack Mosh TD pass to make it 28-0 at halftime.
Pius kept it rolling in the second half with another TD pass from Mosh to Sharp with 9:29 left in the third to initiate the running clock. Grant Redd's 77-yard touchdown reception nearly five minutes later put the Warriors ahead 42-0.
The final score of the game came on the ground as Maddox Chenoweth found the end zone with 6:33 to play in the game.
Mosh was 12-18 for 215 yards and three TDs through the air as Pius totaled 470 yards of offense.
The defense has been getting it done for the Warriors as well. In three games, Pius X is allowing less than seven points per game on average.
"The defense is doing a good job," Simone said. "We're making mistakes right now, but we are hustling to and swarming the ball. Again, we're at that point where we have to get a lot of things cleaned up and they know that."
The sixth-ranked Warriors will face a tough test next week at Maryville, who was ranked 10th in Class 2 after week two.
"This is a great group of kids," Simone said. "They do a really good job of when the lights come on, coming out here and giving it everything that they've got. They're going to go out and compete for four quarters, no matter who you're playing or where you're at."