It's award season and the most prestigious high school football award in the Midwest, The Simone Awards is right around the corner.
The ballot was sent to the coaches on the committee and media today with the 10 semifinalists for each award. They are listed in the video below.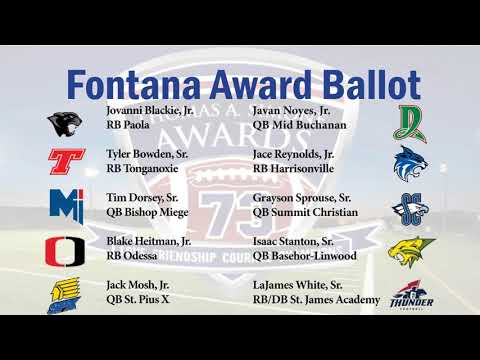 This year the awards will have a different look. There won't be a ceremony but The Simone Awards is partnering with PrepsKC and 41 Action News to announce the winners live on 41 Action News.
The finalists will be announced Sunday Dec. 6 on Sunday Sound Off hosted by Mick Shaffer. Starting Monday each individual award will be announced one a day until the Simone Award is announced on Friday Dec. 11.
The Announcement schedule is as follows:
12/6 - Sunday Sound Off w/ Mick Shaffer (1030-11pm) - Finalist announced for each award
12/7 - Monday - 6PM Sports - Taylor winner announced
12/8 - Tuesday - 6PM Sports - Bell winner announced
12/9 - Wednesday - 6PM Sports - Buck Buchanan winner announced
12/10 - Thursday - 6PM Sports - Fontana winner announced
12/11 - Friday - 6PM Sports - Simone Award winner announced
12/12 - Saturday - PrepsKC - All Simone Team announced
It has been a great year of high school football and this is an exciting time for the entire high school football community.