Photo Credit: PrepsKC staff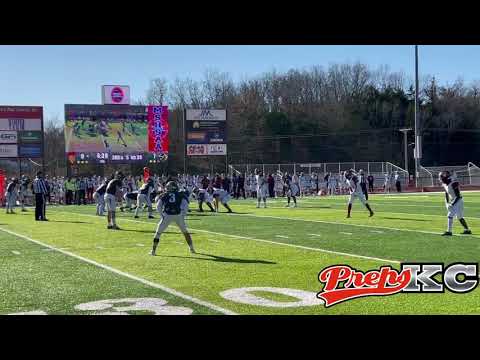 For months Raymore-Peculiar has wanted another shot at DeSmet. Last November, the Spartans came to the Panthers' home field for the Class 6 state semifinal game and put it on the home team, a 37-0 dismantling. The Spartans went on to an undefeated season and a state championship win the following week.
A little more than a year later, the Panthers (12-2) haven't forgotten about that loss.
"We've been wanting to beat them since April," Panther quarterback Conrad Hawley said.
They got their chance Saturday afternoon and made the most of it, beating the Spartans – the No. 9 team in the country according to MaxPreps – 23-0 for the school's first Class 6 state title and fourth overall championship in program history.
So, did this result shock Panther head coach Sean Martin?
"No," he said without hesitation.
After a long pause, he continued: "I really thought if we could keep applying pressure, things would go our way."
The pressure applied by the Panthers came via the defensive line, and it came against one of the best rushing attacks in the state. The Spartans average 300-plus yards per game on the ground and finished Saturday's game with less than 100.
"The D-line was really good," Martin said. "We've really worked on developing our D-line the last few years. They went off today. They controlled the line of scrimmage. DeSmet has some highly talented linemen, and I think our guys were playing with a bit of a chip on their shoulder."
Added linebacker Parker Bowen: "We just played ball. We wanted to be punishing tacklers. Our coaches emphasize that all the time, and we did that today."
The defense set the tone from DeSmet's opening drive. Despite the Spartans converting a fake punt, the defense still got a stop and forced a missed field goal. On the drive, they forced three negative rushing plays, one of which came against quarterback Seth Marcione.
Marcione got his legged rolled up on during the play by a host of Ray-Pec tacklers and was noticeably hobbled the rest of the half. He split time with back-up Byron McNair the rest of the half but didn't get back on the field in the second half.
"It's always tough when you're down your quarterback after pretty much the second play of the game," DeSmet head coach Robert Steeples said. "We knew their D-line was stout. We still have to dial up the right plays against that, and we didn't expose that today."
After the missed field goal, the Panther offense struck quickly. Hawley covered 30 yards on two pass plays and two plays after that, sophomore running back Jaidyn Doss patiently waited for his offensive line to create a hole and exploded through it for a 43-yard touchdown run and a 7-0 lead.
"That's the game plan the coaches have. Just hide behind our blockers and hit the hole hard when it's there," Doss said. "That took all my nerves away. I'm just a sophomore, so I was really nervous coming into the game. When we broke through with that touchdown, it felt good."
Added Hawley: "When we got that first seven on the board, that got our swag and confidence going. When we get like that, we're tough to beat. All we needed was a lead, and we knew we could win this game."
Doss may be just a sophomore, but this might have been his coming out party.
After the defense forced a turnover on downs to start the second half, Doss came in motion and took a jet sweep handoff around the end and went untouched into the end zone from 64 yards out to make it 14-0.
"That changed everything," Doss said. "That gave us even more confidence."
Trey Kudron added a 45-yard field goal that hit the bottom crossbar and bounced through to make it 17-0 late in the third quarter.
On the next drive, Doss put the game away with his third score of the game with a 28-yard dash to make it 23-0. He finished with 190 yards on just 10 carries.
"This is one of those days I've dreamed of," Doss said.
The Panther defense put a fitting cherry on top of the game on DeSmet's last possession, as Jeremy Sharp got the teams fifth sack of the game, forcing a fumble that teammate Tyler Shuey recovered.
Shortly after that, Martin – in his first year as head coach after years on Tom Kruse's staff – got the Gatorade bath from his team.
"This is awesome. This whole season has been something," Martin said. "I'm so proud of our kids. We knew we had a good team coming back. The kids were uniters."