Photo Credit: Lori Habiger/Center Stage Photography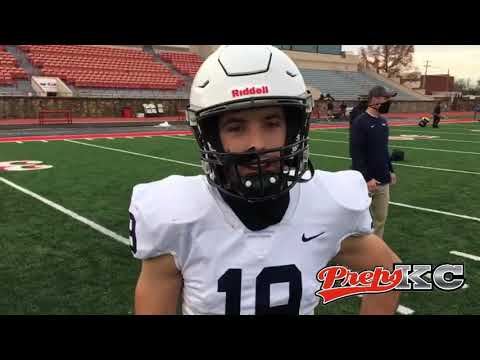 Complete Box Score and Play by Play
It's times like these you don't know what tomorrow may bring. In the year of a global pandemic and a football season of uncertainty, Mill Valley Head Coach Joel Applebee preached to his players to enjoy every single day.
"The kids took it one day at a time because they knew they had to. They knew it could be taken away at any point in time," said Applebee.
Sure, the Jaguars' goal all along was to defend their 2019 Class 5A state title. They knew they had the talent to get back to Pittsburg and play for another title. It wasn't until the objective was achieved on Saturday that Applebee, clutching a new state championship trophy in his hands, verbalized what everyone in the Mill Valley program thought about for the past year.
"We never said it all season long," Applebee said to his players as they kneeled around him. "But here it is. Back-to-back, baby!"
Mill Valley scored a pair of touchdowns and made a huge defensive stop late in the fourth quarter to defeat no. 1 Wichita Northwest 49-35 at Pitt State's Carnie Smith Stadium. The Jaguars (10-2) claimed the program's fourth state championship in the last six seasons. It was a rematch of last year's Class 5A final. Mill Valley won that one 40-31.
All four state championships have come under the leadership of Applebee.
"These never get old. I just love it for the kids," said Applebee, who has a 91-34 record in 11 seasons at Mill Valley. "These seniors have worked so hard for four years. They won it last year and coming into this year, they knew that's what they wanted. They worked extremely hard all year long."
"I feel bad for the teams that had to cancel their seasons. It's 2020. You just never really know what's going to happen, but we're very blessed that we got to have a full season," said Cooper Marsh.
The Jaguars' senior quarterback passed for three touchdowns and ran for three more. He finished his career by completing 7-16 passes for 255 yards and 24 rushes for 134 more yards.
"We all had one goal in mind, and that was to win two state championships. So we worked our asses off every day we could," said Marsh.
The Jaguars scored their first points on their third possession. On third-and-23 from their own 9-yard line, Tyler Reishus ran a deep post route, and Marsh hit him in stride. Reishus hauled it in at midfield and ran the rest of the way for a 91-yard score. It was the senior wide receiver's first career touchdown.
"You just gotta be ready for your opportunities. We all work hard all year, and whenever it comes your way, you gotta make the play," said Reishus.
Wichita Northwest running back Julius Bolden bobbled a toss from Geremiah Moore, and the fumble was recovered by Mill Valley's Cody Moore at the Grizzlies' 17-yard line. The Jaguars cashed it in for a touchdown on a one-yard keeper by Marsh for a 14-0 lead.
"They're an explosive team, and at any moment they can hit a big play. So we knew our offense had to keep the foot on the gas as much as possible," said Applebee.
The up-tempo Grizzlies finally scored on their fifth possession. On a fourth-and-three, running back LJ Phillips scored a 36-yard touchdown.
Mill Valley answered immediately. Marsh broke free on a 45-yard run before he was taken down at the Wichita Northwest 5-yard line. Two plays later, Marsh ran right behind lineman Robert Dervin and Samuel Hecht for an easy three-yard score. The Jags led 21-7.
Wichita Northwest had an 11-play, 80-yard drive that ended with a one-yard touchdown run by Phillips, and the score at halftime was 21-14.
The Grizzlies started the third quarter with the ball and an explosive play. On second-and six from their own 24, Moore found a wide-open Kaleb Coleman in the middle of the field for a 76-yard touchdown pass. The game was tied at 21-21 31-seconds into the second half.
Mill Valley only needed five plays to regain the lead. Wide receiver Kendrick Moore ran a medium slant, and Marsh hit him in stride for a 50-yard touchdown. Jones caught three passes for 90 yards.
After trading punts, Mill Valley had a second-and-five at the Northwest 27. Quin Wittenauer took a handoff and shot through a big hole at the line of scrimmage, cut to his right to avoid an arm tackle, and accelerated into the endzone. The Jaguars were back on top by two touchdowns, 35-21. Wittenauer finished with 21 rushes for 65 yards.
The Grizzlies wouldn't go away. Moore kept the ball on a read option, and the shifty back gained 34 yards to the one-yard line. Julius Bolden covered the last yard and cut the lead to 35-28 late in the third quarter.
Marsh made his only mistake about two minutes into the fourth quarter. The lefty faked the handoff to Wittenauer and rolled to his right. He threw a pass toward the sideline intended for Reishus. Zaire Adkins stepped in front of Reishus, picked it off, and returned it 18 yards to the Mill Valley 27.
The Jaguar defense held up, and the Grizzlies faced a fourth-and-eight from the 25. Moore ran to his right, pump faked, sidestepped a Mill Valley linebacker, avoided two would-be tacklers along the sideline, picked up a key block, and scored a dazzling 25-yard touchdown. With the extra point, the game was tied at 35-35 with 8:21 left on the clock.
"I just knew that if we could stay on top that would win it. And be calm in the chaos," said Marsh.
The Mill Valley offense remained poised. They put together a six-play, 72-yard drive. Marsh and Jacob Hartman connected on a 40-yard pass, and the Jags had a first down at the Northwest 39. Marsh completed a 33-yard pass to Jones to the three. On the next play, Marsh was met at the one by the strong safety and pushed his way into the endzone for his third rushing touchdown. The Jaguars were back ahead 42-35 with 5:08 to go.
"What I did today wouldn't have happened if the five men up front didn't work. I have to give the credit to them and to the receivers for making plays for me," said Marsh.
"He's a special kid. The best thing about him, he doesn't care about stats. He doesn't care if he scores. He just wants to win," added Applebee. "He really showed that in the fourth quarter."
After a touchback, Wichita Northwest began its next possession at the 20. Facing a fourth-and-one at the 29, Northwest Head Coach Steve Martin called a timeout. The Grizzlies were going for it.
With a state championship on the line, Moore caught a high snap and faked a handoff to Phillips. Moore wanted to run to his left but Mill Valley safety Trey Worcester was there waiting for him.
"We sent a weak-side blitz there, and Trey just did an outstanding job and made the play," said Applebee.
Worcester wrapped up Moore for a five-yard loss, the Grizzlies turned the ball on downs, and the Mill Valley sideline went nuts.
Our coach called a blitz off the edge. I saw him fake the handoff, went straight for his legs and got him," said Worcester.
The Jaguars took over the Grizzlies' 24. On third-and-eight from the 22, Marsh pulled the ball out of Wittenauer's hands and rolled to his left. Wittenauer ran towards the sideline and was left all alone. Marsh lobbed a pass back to Wittenauer, who caught it at the ten, and scored an easy touchdown. The Jags jumped back ahead by two touchdowns with just over three minutes left.
"Our offense was playing well in the fourth quarter, and our defense was feeding off of them and their energy," said Applebee.
One last gasp for the Grizzlies. On third and short from their own 41, Kolten Jegen sacked quarterback Mason Ross for a 10-yard loss. The ball popped loose, and Peter Janssen recovered it for Mill Valley.
That was it. The Jaguars melted the clock and celebrated their second straight state championship. After starting the season 2-2, they ran off seven straight wins.
"It's awesome. We've been working so hard this year and last year and knowing that hard work paid off is really satisfying,' said Marsh.
"The year we're in and the different kind of adversity they've faced all year long, I can't say enough about the senior class," said Applebee.
We didn't even know if we were going to get to play. To come out here and win two championships in a row is everything we ever wanted," added Worcester.
Wichita Northwest finished the season 10-1. The Grizzlies have lost only three games in the last three seasons. All three losses came in state championship games. St. Thomas Aquinas beat them in 2018, and Mill Valley has snuffed out their championship dreams two years in a row.