Photo Credit: Jeff Stead/PrepsKC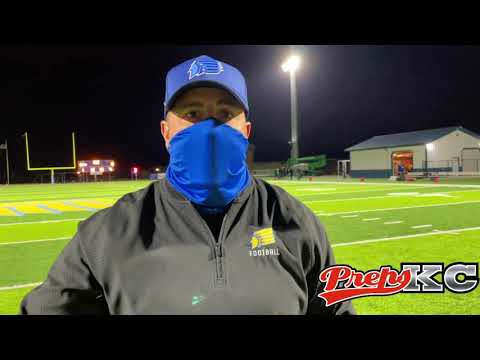 Complete Box Score and Play by Play
St. Pius X coach Anthony Simone Jr. didn't know what to expect this season.
Simone, who graduated from Pius in 2002, wanted to restore the once proud program back to what it used to be — a powerhouse.
"It's really a dream come true and we couldn't be happier," said Simone, who's team improved to 11-0 with a 14-6 win over Butler in the Class 2 state quarterfinals. "It's a testament to these guys buying into what we're doing and being champions on and off the field. I couldn't be more proud of these guys."
After shutting down Lafayette County a week ago, the Warriors faced yet another vaunted rushing attack in the Bears on Friday.
The Warriors defense was up to the task as they held Butler to 188 yards on 40 carries.
"There were times tonight where we had ten guys in the box," Simone said. "It was kind of crazy. … (we) wanted to take away what they wanted to do. They want to run it. Even when we loaded the box up, they still did a great job (of executing their game plan). It's one heckuva football. They were undefeated for a reason."
Butler got things going early, as Brendin Patrick capped off the 10-play, 74-yard drive with a 43-yard touchdown run.
Unlike Butler, Pius struggled to find its footing early on offense. The Bears were able to hold the Warriors offense to two consecutive three-and-outs, but the tide slowly shifted in Pius' favor in the second quarter as Robbie Sharp scored his 14th touchdown of the season with a 22-yard run.
Pius had two chances to add on to its lead late in the first half, however, they came up short both times.
Facing a fourth-and-2, Simone decided to go for it rather than kick a field goal. His decision almost paid off but a Jack Mosh pass intended for Adian Coons was dropped.
"There is no question we cannot come out and play like that and get to where we want to be," Simone said of this team's poor execution to end the first half. "I just told the boys, 'You know what, if you come out and play a sloppy game … when you're able to overcome that. … That's what championship teams do."
Leading 7-6, Pius added to its lead early in the fourth quarter as Mosh found David Deters for a 10-yard touchdown.