Photo Credit: Nick Smith/PrepsKC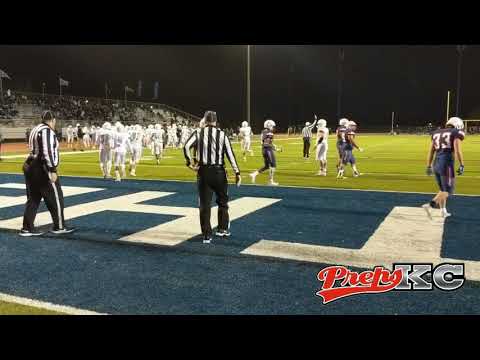 Blue Valley North and Olathe North are getting used to pairing up this time of year.
For the second time in the last three years, the Mustangs and Eagles met in the 6A state semifinal round Friday night with a state title game berth on the line. So, yes, these programs are quite familiar with each other.
But each year, it's typically difficult to tell who will come away victorious. Last year, Olathe North took care of business.
This year, the Eagles were favored to move past the Mustangs, who needed an upset and their best defensive performance to date to stop Shawnee Mission Northwest last week.
Blue Valley North, however, carried over its strong defensive play, creating three takeaways, and the Mustangs overcame Olathe North's 14-0 start to earn a 30-20 victory at the ODAC, claiming a berth into the state championship game in the process.
Following the win, Blue Valley North coach Andy Sims proclaimed to his team and family members, "We're the new No. 1!" As it turns out, his players have known this all along.
"If you were to ask any of us, we would've said we were the No. 1 team in the state every week," Mustangs defensive back Dasan McCullough, who had an interception and a forced fumble, said. "So, during the playoffs, we wanted to get on a run and prove that to everybody."
They've done just that.
"They came out tonight with a bunch of guts, and a bunch of grit," Sims said, "probably more than I've ever seen out of a football team. An unbelievable job. They don't know how to quit. These guys were able to weather the storm. That's where the grit and toughness come in."
After a scoreless first quarter and a 14-0 deficit that occurred in the second frame, Blue Valley North (7-2) reeled off 24 unanswered to stifle the Eagles (8-2). Olathe North found the end zone one last time on a Jacob Parrish 2-yard touchdown run to make it 24-20 with 1:14 left.
But the Mustangs recovered the ensuing onside kick and quarterback Henry Martin found a wide-open Drew Freiberg for a 52-yard catch-and-run for a touchdown on the first play from scrimmage to seal the victory.
"I think (Blue Valley North) is just good," Olathe North coach Chris McCartney said. "They had a couple plays they put together and they're good at throwing it around. When you have several weapons, you're gonna break one occasionally."
Martin orchestrated the comeback quickly after McCullough jarred the ball loose from Dequantez Love near the goal line, and the Mustangs recovered in the end zone. A few plays later, Martin connected with Lucas Bullock on a 66-yard touchdown connection for the Blue Valley North's first lead of the night at 17-14 midway through the third quarter.
The Mustangs made it 24 straight points when Martin found Mehki Miller for a 35-yard touchdown connection, producing a 24-14 lead with 7:15 left in the contest.
Only a minute later, McCullough picked off Eagles quarterback Noah Palmer. Blue Valley North then burned more than two minutes off the clock before settling for a punt. Then, Parrish rushed in one of his two touchdowns.
Palmer, Olathe North's signal-caller, tossed a 71-yard touchdown to Parrish to put the home side on the board first. Palmer made it a two-score lead when he ran one in from 17 yards out midway through the second quarter.
Then, Mustangs kicker Spencer Sprenger knocked in a field goal from 36 yards out, and Martin connected with Cole Stratton on a 13-yard touchdown pass to make it an eventual 14-10 halftime score.
On the two-score deficit, Blue Valley North was not worried.
"They don't know how to quit," Sims said.
"It's just our mentality," Martin said.
The Mustangs will take that mentality into the grand finale next week, where they'll take on Derby, who beat Junction City 41-27, at CBAC in Olathe. It'll be the third state championship meeting between the two programs in the last four years.