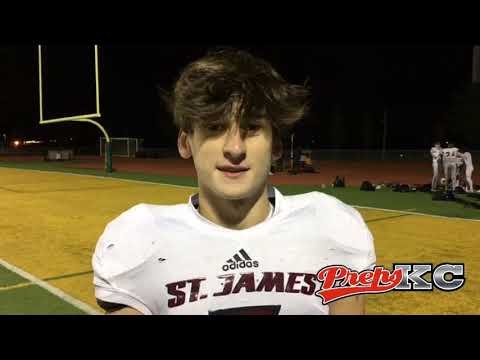 Complete Box Score and Play by Play
The St. James Academy Thunder had to return to a place where they played earlier this fall to get to a place the football program has never been before.
The Thunder beat Basehor-Linwood 56-35 in the Kansas Class 4A Sectionals. With the victory, the Thunder earned the first sub-state appearance in the short 14-year history of the varsity program.
"I'm just really happy for our school and this program and the guys," said Head Coach Tom Radke. "The coaching staff did a great job preparing them."
It was St. James Academy's second visit to Basehor-Linwood High School this season. The Thunder won the first match-up here 42-35 in late September. Playing as the ninth seed in the Class 4A East bracket, the Thunder (6-4) have won three straight road games in the playoffs. Next week, they will be the home team against no. 10 seed Bishop Miege (5-4). St. James doesn't have its own home stadium, so the sub-state game will likely be played at St. Thomas Aquinas.
"We knew we had a very tough regular season, but we were thinking the whole time about playoffs and state," said Thunder quarterback Dakota Burritt. "We've got all the confidence in the world right now."
Burritt's offense got off to a slow start, and the Thunder fell behind. The Bobcats opened the game with an 83-yard touchdown drive. Running back Zach Sisemore punched it in from the one, and Basehor-Linwood led 7-0 at the end of the first quarter.
"We didn't want to do that, but we all kept our heads. Kept positive," said Burritt. "Once the defense got us momentum, they got the ball back for us. And so we just went out there and knew we had to score."
La'James White got the Thunder offense rolling in the second quarter. The senior running back gained 18 yards on a fourth-and-one. Facing a third-and-goal at the 7-yard line, Burritt ran a keeper and was stopped short of the goal line. White converted again on fourth-and-goal at the one and scored a touchdown.
"We started off with the first two possessions, and we didn't get anything out of it, and that's really upsetting," said Radke. "We settled down. Started moving the ball. They were blitzing a bunch, and we figured out what their scheme was, and we adjusted to that."
In their first meeting against St. James Academy, Basehor-Linwood lost three fumbles. The Bobcats only turned it over once Friday night, but it switched the momentum of the game. Jordan Brown caught a pass from Isaac Stanton near midfield and dropped the ball. White, who plays both running back and cornerback for the Thunder, recovered the loose ball at the 45-yard line.
Burritt completed a 33-yard pass to Tyler Claiborne to the Bobcats' 22-yard line. Then Claiborne ran a post-corner route, and Burritt delivered a perfect pass into the endzone. The Thunder had a 14-7 lead.
After forcing Basehor-Linwood to punt, the Thunder took over at their own 39. Burritt broke into Bobcat territory with a 24-yard run. Then on fourth-and-eight, Burritt hit a wide-open Josh Kirby for a 31-yard touchdown.
"So Ty (Claiborne) and Josh crossed the middle of the field. Everyone ran with Ty because he scored the last touchdown," said Burritt. "Our coach added that play this week based on what their defense has been doing. We knew he'd be wide open, so I was just waiting for the right time. He popped wide open, so I hit him, and he made a great run after the catch and scored."
St. James Academy led 21-7 at halftime.
"Offensively in the first half, we had a couple of penalties and a turnover that killed drives," said Basehor-Linwood Head Coach Rod Stallbaumer. "We were moving the ball really well, and we shot ourselves in the foot a few times."
The Bobcats started the third quarter with a 68-yard scoring drive. Sisemore burst through a hole at the 11-yard line and dove into the endzone for his second touchdown. The Bobcats cut the lead to 21-14.
The Thunder responded by scoring five straight touchdowns.
"Their quarterback threw some really nice passes where we felt like we were in pretty good coverage, and they just made plays. They've got some special guys over there," said Stallbaumer.
Burritt and Claiborne connected on a 30-yard pass to make it 28-14. On their next possession, the Thunder ran a delay for White from their own 36. He avoided capture at the 40, wide receiver Hayes Manning threw the key block at the 50, and White sprinted down the sideline for a 64-yard touchdown.
"You give Jimmy White a crease, and he's gone," said Radke. "The offensive line did a great job led by Emilio Zaldivar, Harry Spencer and Luis Bautista."
The Thunder started their next drive at their own 34. Burritt dropped back and let it fly to Claiborne.
"Our coach asked Ty if he thought he could get open on a post out of that formation, and he said yes. So we trusted it," said Burritt. "The line gave me a ton of time, and I just put it up there for him."
Claiborne made the catch, broke a tackle, and scored a 66-yard touchdown. The junior caught five passes for 150 yards and three touchdowns.
"I knew I could beat him the whole game, and I was running my routes good," said Claiborne. "I felt like I had a little bit of separation, and if he just got me the ball, I could make a play like that."
"Dakota and Ty have had a really good connection all year, and they hit a deep ball there," said Radke.
"I feel like we have the best wide receiving corps, the best quarterback to throw to us, and we can do anything we want," said Claiborne.
Trailing 42-14 late in the third quarter, Sisemore powered his way into the endzone for a 3-yard score. The junior finished with 36 carries for 203 yards rushing and three touchdowns.
In the fourth quarter, White took a handoff from Burritt at midfield. He spun to avoid a tackle at the 50, turned the corner and exploded from the pack for a 51-yard touchdown. White had 17 carries for 224 yards and three scores. In three playoff games, he has rushed for nine touchdowns.
Stanton, Basehor-Linwood's senior quarterback, finished with 250 yards passing and two touchdowns. His best pass of the night came late in the game on a 31-yard toss to Brown, who made a gorgeous over the shoulder grab in the back of the endzone. Brown had 14 catches for 110 yards. Stanton ends his career as the Bobcats' all-time leader in passing yards and touchdowns.
Basehor-Linwood had won six straight. The Bobcats finished with a record of 7-4.
"You know we started 1-3, and this group didn't give up, and they got better every single week," said Stallbaumer. "We were able to improve and make a little bit of a run."
St. James Academy lost at Bishop Miege 38-28 on October 2nd. The winner of next week's rematch will advance to the Class 4A state championship game.
"We're really excited about that. We got them last year. It was a close game again this year. I think we match up really well with them," said Radke.
"I'm very excited. Especially since we get to be the home team. Last game against Miege I don't think I played my best, so I owe it to the guys around me to play well and win this game next week," said Burritt.
"It's crazy it's going to be a nine and a 10 seed going against each other," added Radke. "We get to be the home team, so that's going to be fun."