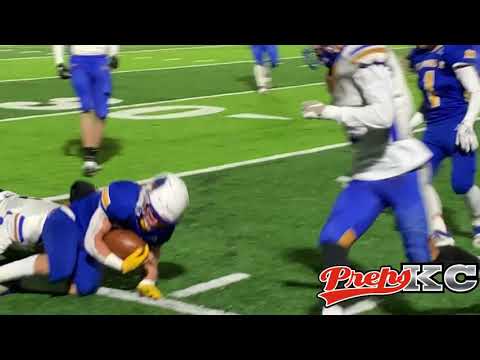 Complete Box Score and Play by Play
The dream season and undefeated streak continued for St. Pius X as they shut out Lafayette County 21-0 to win their 10th game in as many tries this season.
"We're in a really tough league and play a tough schedule, but Lafayette County is a hard-hitting team and that was the most physical game we've had all year long," Pius head coach Anthony Simone said. "These guys have had a rough few years here, but they worked really hard and this team has really come together. It's a great football team and I couldn't be more proud of these guys."
Pius forced a three-and-out on the game's first possession and found success right away offensively. The Warriors moved the ball 58 yards on 10 plays and got into the end zone on a 23-yard pass from Jack Mosh to Shane Dorian to take the 7-0 lead with 5:11 left in the first quarter.
The Huskers appeared to snag the momentum on an interception by Josiah Golden at their own 13 with 8:18 to play in the half, but just a few plays later, the Warriors recovered a fumble at the Lafayette County 26 and had more than six minutes to work with.
Pius needed just six plays to cash in as a two-yard touchdown run by Robbie Sharp at 3:11 pushed the lead to 14-0 at halftime.
Lafayette County was driving into Pius territory midway through the third quarter, but the Warriors came up big on defense again forcing a turnover on downs at their own 36.
Pius went right at the Lafayette County defense with a pass to Sharp, who ran it all the way to the Huskers' 24. A personal foul penalty at the end of that run had Pius inside the 10. Mosh took it in on a QB sneak and the Warriors were up by 21 after three quarters.
"That's just kind of what our offense is," Simone said. "You don't think we're getting much on you here and there, but you look up and it's 14-0 in the fourth quarter. Our coaching staff does a great job of finding what works and we have some many different weapons."
It's on to the quarterfinals in Class 2 for the fourth-ranked Warriors, who will next play Butler (10-0).