Photo Credit: David Rainey/Special to PrepsKC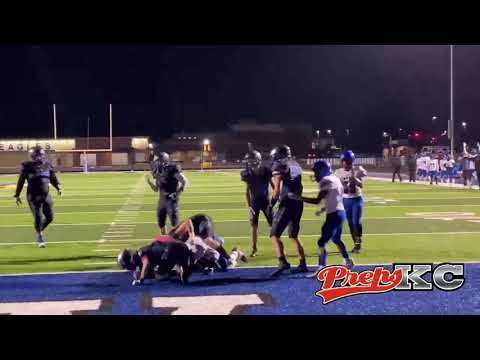 Complete Box Score and Play by Play
Nearly a month ago Grain Valley was handed its lone loss of the season, on the road in the final seconds at Raytown. Friday night, the Eagles got their chance at revenge, and quarterback Cole Keller didn't shy away from making it known that the loss was still fresh in his mind. There were no cliches about putting the loss behind him or taking things one week at a time.
Keller and his team wanted the rematch.
"It's been on my mind however long it's been since we played them," Keller said of the loss. "It's been eating at us. We wanted this game. …That loss was a blessing in disguise. It re-motivated us. It showed us that we can't just show up and win."
The Eagles showed just how motivated they were, rolling to a 42-7 victory for a district championship and a spot in the Class 5 state quarterfinals.
"I had some fear of the layoff we had," Allie said with his team having not played since Oct. 23. "I told the guys, there's no such things as rust, you need to be hungry. They were pretty hungry tonight."
Grain Valley came out and tried to send a message right away, running the ball at will. They had an 11-play drive – all runs – that covered 68 yards with Parker Bosserman rumbling into the end zone from 2 yards out to make it 7-0 before Raytown touched the ball.
The scored stayed put until about midway through the second quarter, when the flood gates opened up for the Eagles. Starting their drive on their own 4-yard line, and after a pair of first downs, Keller faked a handoff to Bosserman and took off around the edge, galloping for a 75-yard touchdown and a 14-0 lead.
Grain Valley's Keegan Hart followed that up with an interception and returned it inside the Raytown 10. Two plays later, Keller found the end zone from 1 yard out for a 21-0 lead.
"He's a ball hawk for us," Allie said of Hart. "He really has a nose for the football."
The momentum didn't stop there for the Eagles. The Blue Jays drove down to the Eagle 37 but were stopped once again on fourth down, and despite there being less than a minute until halftime, Grain Valley went for the jugular. After three run plays gave them a first down, Keller threw a perfect deep pass to Logan Pratt for a 52-yard touchdown and a 28-0 lead heading into the locker room.
That was also the first pass of the game for the Eagles.
"As the old adage goes, 'if it ain't broke, don't fix it'," Allie said. "That was a huge momentum swing."
The idea of the Blue Jays making a second half run took a wrong turn the final 6 minutes of the half.
"You think, it's 14-0, we get the ball at halftime, so two scores is manageable for us," Raytown head coach Logan Minnick said. "But that was a big momentum swing. We're not the kind of team that is built to come from behind."
The Eagles defense made an adjustment from the first game, stemming on defense at the line of scrimmage before the ball was snapped to try and throw the Blue Jays off. Back in October, Raytown ran for 450-plus yards. On Friday night, they only ran for 125.
"We would start in one position and move to another before the snap," Allie said. "It causes a little confusion. The guys ran it to perfection."
Raytown came out with a little fire in the second half and scored on its opening drive as quarterback Nathan Whitebear went diving into the end zone from 4 yards out to make it 28-7.
But the Eagles responded, needing just six plays to find the end zone as Hunter Newsom ran it in from 24 yards. Keller put the cherry on top of the win late in the third quarter with another long touchdown run, this one from 55 yards out for a 42-7 advantage.
"I had a whole different focus," Keller said when tonight's rematch. "It wasn't a small chip; it was a huge chip on our shoulder."
Raytown wrapped up an 8-4 season, as Minnick's first four-year senior class as head coach finished with a 30-14 record.
"When we took over four years ago Raytown hadn't had a winning season in 28 years," Minnick said. "This senior class went 30-14. It's a heck of a turnaround.
Grain Valley (10-1) lives to play another day and will get another shot at some revenge when they play Platte County, the same team that knocked them out of the playoffs last season. And in a season that has been marred by uncertainty, Keller knows plenty of teams wish they were where the Eagles are right now.
"We are very fortunate to be where we are," he said. "We have to take it one day at a time. We have to stay safe. We have to put the team before ourselves. This is a special year."