Photo Credit: Adam Burns/PrepsKC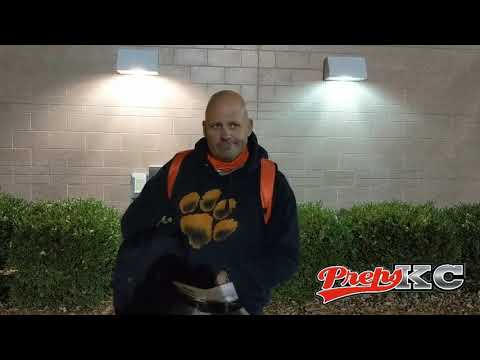 Blue Valley North's defense has a couples of goals going into each game and ahead of each and every series.
Prior to the Friday Night Lights, the priority can be described with one word. Or, in this instance, one number: Zero.
Zero points that is.
The Mustangs fight to hold the opposing offense to a goose egg on the scoreboard.
The other goal? Find a way to create a turnover every time they enter the field of play. No matter the opponent.
How did they do this week?
Not too shabby.
Blue Valley North's defense, arguably facing its toughest test yet, created four takeaways and allowed just one touchdown, while the Henry Martin-led Mustangs offense turned each turnover into points as the Mustangs knocked off Shawnee Mission Northwest 30-6 in a Class 6A state quarterfinal contest Friday at Shawnee Mission North.
"This is the best offense we've played and the best quarterback we've played in a while, so, hats off to (Cougars' quarterback) Ty Black and the whole offense, but we got the best of them tonight," said Blue Valley North junior defensive back Dasan McCullough, who tallied an interception.
In addition to McCullough, Owen Schenk registered the second interception for the Mustangs, which also recorded – and recovered – two fumbles.
"The defense really came through and held these guys to six (points) which is really impressive," said Martin, Blue Valley North's junior quarterback who passed for two touchdowns.
Mustangs head coach Andy Sims agreed with his signal-caller.
"They played with a lot of guts," he said of his defense. "That's not an easy offense to defend. So many different formations and so many different weapons. … We did a good job of taking the ball away, but we did come up some key fourth down stops early in the ball game to keep them out of the end zone."
Which, as many Eastern Kansas defenses know, is tough to do against the highly touted Black, who led the Cougars to a 6-0 lead with a 20-yard strike to Jack Meylan with 54 seconds left in the first quarter.
After Blue Valley North missed a field goal, McCullough corralled the Mustangs' first takeaway, which led to Mehki Miller's first of two touchdowns – this one a 2-yard touchdown run. The Spencer Sprenger PAT gave Blue Valley North a 7-6 lead with 1:44 left before halftime.
But the first half was far from over.
For a second straight series, the Mustangs caused a turnover when they pounced on a fumble at the North 42-yard line with limited time remaining in the first half. Martin then quickly pushed the offense forward to put Sprenger in position for a 26-yard field goal with 2.5 seconds left, giving the Mustangs a 10-6 halftime advantage.
North's next score came after Schenk's interception with less than a minute remaining in the third frame – a Martin to Mehki Miller connection for 26 yards and a 17-6 lead.
The Mustangs' defense continued to roll, forcing the Cougars into back-to-back punts to open the fourth quarter. Meanwhile, Martin tossed an 18-yard touchdown pass to Cole Stratton and Lucas Bullock ran in a 2-yard rushing score to cap the scoring for the victors.
"It's great," Martin said of the defense creating offense. "We have all the momentum and it's big to get the points after turnovers. It was a big part of the game."
An unfortunate part for Northwest, which finished the season 6-2.
"It was an obviously disappointing end. We were disappointed with how we played offensively," Cougars head coach Bo Black said. "At the end of the game we couldn't protect up front and they have some really good athletes in their secondary. … We had plenty of opportunities, we turned the ball over, and had some calls that didn't go our way. But our kids had a good year, we were just disappointed with the way it ended."
With the win, North (6-2) advances to the state semifinal round to take on Olathe North (8-1) next week.
"We just got to stay focused," McCullough said. "That's all we can do, really. We'll get right back in the film room and focus on Olathe North and get ready to go to the state championship after that one."
And the Mustangs can't wait to start preparing for the high-flying Eagles. Even if Blue Valley North continues to roll as the underdogs.
"Underdogs at Blue Valley North?" Sims said. "We're used to it by now. That's kind of how we roll into the postseason this time of year."