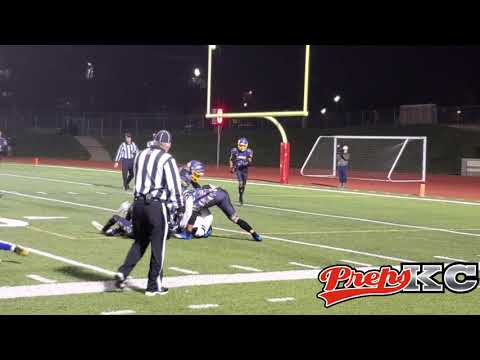 The Grandview Bulldogs accomplished a rare feat in their Class 4 District 7 championship against Lincoln College Preparatory Academy.
Their defense was stout, a trend that has started to pick up since the playoffs started. In fact, Grandview was the first team to hold Lincoln Prep to three points or less since Kansas City Central shut out the Blue Tigers in 2017.
And the Bulldogs did just enough on offense to support the dominant defensive effort in a 14-3 victory Friday at Bryan Field.
Grandview held the Blue Tigers, who averaged 36.7 points coming in, to just 105 yards of total offense and intercepted 6-foot-2, 320-pound quarterback Howard Brown twice.
"There was a lot of talk about the explosiveness of their Division I guys over there, but our defense is pretty explosive, too," Grandview coach Jeremie Picard said. "I can't say enough about our defensive coordinator Nick Frank. He does an amazing job of scouting and preparing our guys."
The performance capped a three-game stretch in the playoffs in which the Bulldogs held its opponents to 7.3 points per game, resulting in their first district championship since former NFL quarterback Josh Freeman led the team to one in 2004.
"It's been a goal for a minute," Picard said of winning a district title. "We wanted to put our name in the gym. In the weirdest year possible, we found a way."
Perhaps the biggest defensive play came in the third period with Grandview leading 7-3. Grandview linebacker Dylan Carter intercepted a tipped pass from Brown and returned the ball to the Lincoln Prep 11-yard line.
"When I saw that ball up in the air, I knew it was up for grabs," Carter said. "I just went up and grabbed it. We balled out and we held them to a field goal. That feels so good."
Added Picard: "That is one of the hardest working kids in football. I just wish he would have scored."
Despite a couple of penalties pushing Grandview back a few yards, The Bulldogs had fourth-and-1 from the 3 and Antavion Williams appeared to be stopped at the 1 on a rushing attempt, but he muscled his way forward to fall into the end zone and make it 14-3.
After that, the Bulldogs continued to fluster Brown, who completed just 5 of 22 passes for 53 yards. The Bulldog defensive backs blanketed Blue Tiger receivers and the front seven stymied Lincoln Prep's running game as it only had two runs that went more than 10 yards.
"Their defense is good, but there were a lot of missed opportunities, too," Lincoln Prep coach William Lowe said. "We had a big pass that got called back and we had some penalties, that if we didn't have them, we'd be up 10-0."
Lincoln Prep's only score came with 26 seconds left when Sam North made a 32-yard field goal to put his team up 3-0.
Bulldogs quarterback Chris Connor struggled in the first half, throwing two of his three interceptions. But he put those mistakes on the backburner when he connected with tight end Damien Stephens over the middle for a 33-yard TD to put Grandivew ahead for good at 7-3.
Williams helped open things up for Connor by providing a spark in the running game when the other Bulldog running backs struggled. He rushed for 72 yards on 17 carries before going down with an ankle injury late in the third period.
"He has patiently waited for his chance on this thing because Keenan (Jones) has been our starter in a lot of ways," Picard said of Williams. "(Tay got his chance tonight and I was proud of his effort."
Added Williams: "I was just thinking about the win. We had to get this one for our city."