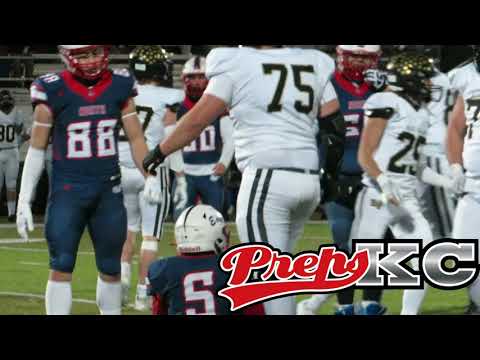 Complete Box Score and Play by Play
A year after Olathe North road the athleticism of Arland Bruce's 169-yards of offense and two touchdowns past Blue Valley and into the 2019 state championship, the Eagles once again downed the Tigers in the Kansas 6A playoffs but this time behind a complete team effort on both sides.
After pulling out to a 28-7 lead, North fended off several late tests from their EKL guests to advance with a signature 28-21 victory.
"That's what they've done," Eagles head coach Chris McCartney said afterwards, crediting his team's resiliency. "They've been thrown some curve balls the whole time."
"First, no football and then some kids left. They could've easily folded but they keep fighting every time."
Albeit a non-senior roster in several key areas, the Eagles got big performances from experienced juniors Noah Palmer, Aquantez Love and Jacob Parrish on both sides of the ball to spark a sectional title.
The trio accounted for 216 of North's 225-yard total on offense and also created two of the Eagles' five defensive takeaways.
"They have playmakers on their team," Blue Valley head coach Allen Terrell proclaimed in defeat.
"We made more mistakes than they did and that's what it came down to. They made big stops and enough big plays to win that game."
The Eagles took little time seizing momentum on their home turf at the Olathe District Activity Complex, blocking a 50-yard field goal attempt on Blue Valley's opening drive. After an ensuing 26-yard carry from Parrish, North was on the scoreboard first with a one-yard surge from Love.
Defensive back Laython Patillo would then intercept a Greyson Holbert pass on the next series, leading to another touchdown run from Love of 26-yards and the Sunflower League representatives were in business.
"Turnovers," a celebratory Love answered quickly when asked what the key to the game was for his team. "That meant a lot."
"You know what they say, the team with the most turnovers is the team that always wins."
As costly as the early problems were for the Tigers though, it was the late giveaways that ultimately bit them most severely.
To open the second half, Blue Valley, trailing 21-0, converted two trick plays to regain lost energy. First, the Tigers executed an onside kick and followed that up on the very next play with a reverse pass from receiver Tate Gillen to wideout Dorian Stephens for a 46-yard score.
Blue Valley's defense stiffened in the third quarter too, holding North on the first series to put the ball back in the hungry hands of an upstart offense. But once again, a turnover punished the visitors after a Blue Valley fumble turned into 12-play scoring drive from North on a 10-yard pass play from Palmer to Parrish.
Though the Tigers would claw out two more touchdowns in the fourth quarter courtesy of Holbert, they were accompanied by two additional turnovers which all but negated any legitimate comeback hope with the clock playing a pivotal role against Blue Valley's odds.
"We know what we have to do to get there because we've been there before," Love stated when looking ahead to next week's semifinal showdown versus Blue Valley North and another shot at the state championship. "We just have to do what we've done better."
"I think they just expect to win," added McCartney. "That's kind of what they learned from last year is to do anything to get it done."
"You know, we were sitting around in the coaches office talking," continued the head coach. "We feel very fortunate that we're in this position. All of us coaches have been part of teams that are maybe more talented, maybe more this or more that, but they didn't fight like these guys. I'm really proud of this group and it's become a special team."