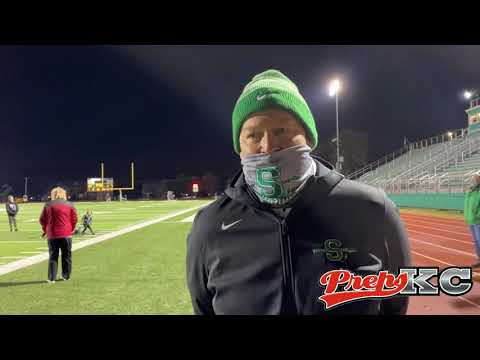 With the No. 1 district seed up for grabs, Smithville's superb start made all the difference.
The Warriors scored touchdowns on their first three possessions of the game, played stingy defense from start to finish and rolled to a 33-7 win against Winnetonka on Friday night. In the process, Smithville clinched the top seed in Class 4 District 8 and earned a first-round bye entering the postseason.
"I think it's imperative to get a fast start again these guys because they run the ball so well," Smithville coach Jason Ambroson said. "… It just played a huge part in the game, shrunk it down in the first half and grabbed momentum."
Sure enough, the Warriors took control from the first drive of the game. They marched 73 yards and opened the scoring on Hayden Sigg's 25-yard touchdown run. Smithville recovered the ensuing kickoff and tacked on another touchdown when Cody Simoncic took a reverse handoff and connected with Rhett Miller for the score.
On both drives, Smithville converted some crucial third downs, which has been an emphasis for the team all year long.
"When you can make plays on third down and keep people moving and keep ahead of the sticks, you're going to be successful," Ambroson said. "And in the games we haven't been successful, that's what hurt us. Tonight, the kids did a great job."
Following another defensive stop, Smithville extended its lead to 20-0 as Sigg leaped over the pile and into the end zone for his second touchdown.
Sigg said the gaining the early advantage was a huge factor and allowed the Warriors to play better on both sides of the ball.
"It created a world of difference," Sigg said. "It put so much confidence into us, so much confidence in our defense that they had a backup, a little bit of a cushion to fall back on."
Winnetonka responded with a drive into Smithville territory late in the first half thanks to big plays from running back Montre Moore and quarterback Jovan Satterwhite. But the Griffins (6-3) couldn't string enough big plays together and turned it over on downs.
Griffins coach Jesse Palmer credited Smithville's defensive game plan, but said Winnetonka's collection of playmakers just needed to finish its drives as they've done all season.
"I thought our guys played hard and played physical and did what they we supposed to do," Palmer said. "But when we get down there, we just have to execute a little bit better."
Smithville pulled further away in the second half thanks to touchdowns on its first two drives after halftime. Quarterback Andrew Hedgecorth connected with Simoncic and Samuel Calvert for touchdown strikes that put the Warriors in front, 33-0, early in the fourth quarter.
Throughout the year, Smithville has displayed a balanced offense, and Simoncic said that diversity is playing a key factor for the Warriors entering the postseason.
"We're definitely playing some of our best football," Simoncic said. "We're at our peak, and that's where everybody wants us, playing our best football every week. And we've just got to keep doing that."
Despite the deficit, Winnetonka continued to move the ball down the field and reached the end zone when Moore ran it in later in the game. Despite the loss, the Griffins still earned the No. 2 seed and received a bye during the first week of the district tournament.
Both coaches stressed the importance of making improvements during their respective weeks off, and Ambroson said he's eager to keep building on what his team has accomplished so far.
"We're going to attack it from the standpoint of how many things we have to work on and get better at," Ambroson said. "… We have to be ready to come back on, even though we're not playing an opponent, but worry about us getting better and improving.
"And then we'll find out where we go from there."