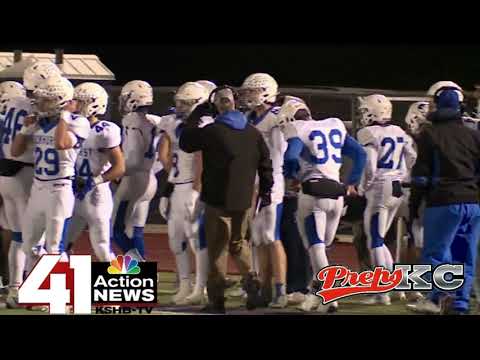 Kelly Donohoe did his best not to worry about the storyline tied to his Rockhurst squad playing at Blue Springs in the regular-season finale.
After all, this was Donohoe's 33rd time coaching in the rivalry between two powerhouse programs. However this was the first for him on the opposite sideline and visitor's locker room and also became the first against his former school, as the Hawklets won 42-20 at Peve Stadium.
"It was very weird," Donohoe said of being in the visitor's locker room after guiding the Blue Springs program for 20 years and 191 victories prior to switching schools earlier this year. "It was mixed emotions. I had a lot of emotions going into the game, but I tried to focus on us and getting better. I was worried about us playing a good game and not focusing too much on the storyline of it.
"It is a special place, the (Blue Springs) district has been so special to me and my family for a long, long time. I have close friends here and those kids are amazing kids."
The three-touchdown final score was boosted by a pair of touchdowns by Class 5 No. 6-ranked Rockhurst in the fourth quarter.
However, the outcome was decided late in the second quarter in a quick series of plays that resulted in a lot of points.
Rockhurst's Johnny Pascuzzi caught a 36-yard touchdown pass from Luke Bailey – one of two quarterbacks in the Rockhurst rotation – to make it 19-7. Wilson Selzer ran in the two-point conversion with 6:31 left in the second quarter.
Lamana Tapusoa returned the kickoff 64 yards for a score to pull the Wildcats (4-5) within 21-13.
For the rest of the story click here.